As a child, so many of my fall Saturdays were spent in the arms of my second family, the Florida State Seminoles, led of course by their legendary patriarch Bobby Bowden. My reverence and respect for Coach Bowden elevated him in a place in my mind and my heart where logic and reason did not take precedence.
It wasn't until my early teen years that reality finally cracked open my bubble of reverie and forced me to accept the fact that my hero was a mortal, like myself, and that no matter how much he might want to, he would not be able to coach my team forever.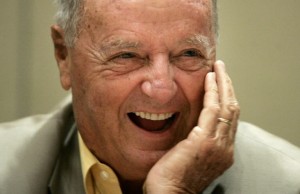 Since that moment, I have been dreading the inevitability of this day.
Through middle and high school, I crossed my fingers at the end of each season just hoping and praying that Bowden would hang in there until I could make my way to Tallahassee. After what seemed like an eternity of waiting, I finally saw the legendary college football icon coach his team in person during my first semester at FSU in the fall of 2003. Sitting in the stands at Doak Campbell Stadium, I thought that was as close as my path would ever get to crossing Bowden's and that was enough for me.
Three years later, however, I was given the opportunity to intern with the Florida State Sports Information office. Just a few weeks after I started, someone put a tape recorder in my hands and shoved me out onto the FSU practice field for post-scrimmage quotes. Coach Bowden zipped over to the edge of the field in his golf cart, where I waited with a gaggle of eager reporters. I extended my hand clutching the recorder within a few inches of the man's shoulder and watched as my arm jerked and vibrated like I was standing on a fault line in an earthquake.  It took every ounce of control I had to keep myself in check and when the moment had passed, I prayed that I had remembered to turn the recorder on, because in my moment of reverie, I had not listened to a word Coach said.
A week later, I was waiting near the gates of the practice field again when coach whizzed by in his trusted chariot en route to the studio where he filmed his weekly television show. He glanced over at me, waved and called out "Hey! How are you?" I turned in a full circle, certain that someone more important had to have been in the vicinity, but I was alone.
By the time I realized this, Coach was halfway across the parking lot and the moment for any response (not that I suspect he'd wanted one) was long gone. Still, I could have died happy in that moment just knowing that the legendary coach I'd looked up to for so many years had actually spoken to me.
We were formally introduced a year later when I accepted a graduate assistantship with the Sports Info office. He repeated my name and shook my hand before bustling off to another media day interview. Though he never used my name again, he did offer a cheery "Hey, Girl! How ya doin?" every time we passed in the hall. I knew he didn't know who I was and may only have vaguely recognized me as someone he saw on a fairly regular basis, but he still managed to say hello with such warmth and vigor that it made me feel like we were old friends.
I am more thankful than I could ever express for the chances that I had to be so close to such a legendary man. It is incredibly unfortunate that things had to end this way for him, that we could not send him out at the very top of his game. But in the decades that will come, no matter how long this Earth continues to spin on its axis, I don't think that history will remember this moment in Bobby's career.
Bobby Bowden is so much bigger than any one point along the timeline of his life. He is a man who overcame a terrible childhood illness to become a leader of men both on and off the football field. His life has touched so many others it's almost impossible to measure his impact. Not only did he command the best of his own athletes, just by virtue of the respect he deserved, he also brought out the best in his opponents–both coaches and other athletes.
We can build statues, stained glass windows and name fields for him until the end of time, but no tangible item will ever be able to properly symbolize and display our gratitude as Seminole fans for what Bobby Bowden has meant to us.
In my twenty-five years of life (which equates to twenty-five years of being a Seminole fan) I have never known a Florida State football team without Bobby Bowden. And even though he may not be on the sidelines next year, he has left enough of himself with the Seminole football program that I don't think I ever will.
Later days,
Shannon