Seven months from now, I will be standing in a hot, sweaty mass of people in a huge field right here in my tiny hometown of St. Augustine having the time of my life.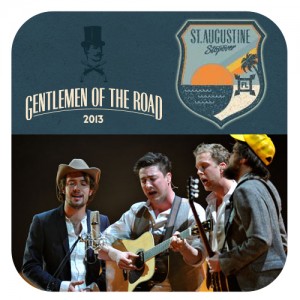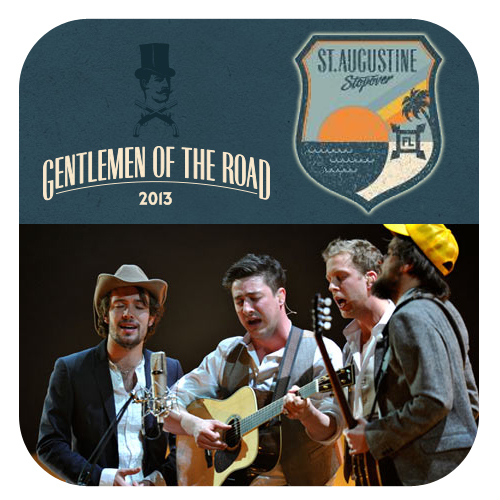 Yes, even though I have a self-diagnosed social anxiety disorder that would normally preclude me from taking part in any and all events that involve huge crowds of people with questionable hygiene, I will be making an exception September 13th and 14th for the Gentlemen of the Road festival.
Why? Because I effing love Mumford & Sons with every fiber of my being.
No other band on this Earth could get me to shell out $100 for a standing room only, general admission concert outdoors in the hottest part of the year.
Seriously, not one.
Jesus could come back for one night only under the same circumstances and I'd be like "I'm sure I can torrent somebody's iPhone video of the event later and watch it at home, it's cool."
Given my undying affection for this band (and not to sound like one of those bird-chested indie music snobs I can't stand, but I loved Mumford & Sons before they got big) it was unbelievably fortuitous that one of the four U.S. stops they chose for their Gentlemen of the Road summer tour was my very own backyard.
It makes me love them even more to know that instead of choosing to go to L.A. or Atlanta or Chicago, where they could have sold 50,000 tickets in minutes, or to go on a huge 50-city tour, they purposely chose four small towns who could really use the economic stimulus of a popular two-day music festival.
How many bands would even think to do that?
Anyway, now that my ticket has been purchased (nice knowing ya life savings, hopefully we'll see each other again someday) I can rest assured that the #2 spot on my concert bucket list will soon be satisfied.
But what about the rest?
I decided it's time to put pen to paper (er, type to computer screen?) and make a list of my current Top 20 on the concert bucket list.
A few rules/notes first:
I've eliminated from the list bands/artists I've already seen, even if they might previously have made the list (i.e. Zac Brown Band, Elton John, Billy Joel, James Taylor, Jason Mraz, Josh Groban, Alabama and The Civil Wars)
However I'm *not* eliminating a few bands I technically have seen, but only in a limited capacity as an opening act for someone else (i.e. The Lone Bellow and Marc Broussard) because I would like to see them again as a headliner.
I'm including a few bands who are not currently together (and at least one artist who hasn't toured in a while) because if the circumstances ever allow for another show someday, I'm there
It is not, however, a "dream" list, so I'm not including artists who are no longer living (i.e. Sam Cooke and Otis Redding)
Okay, here we go:
1. NSYNC Reunion
Yes, I have seen *NSync before (three times…don't judge) but my friends and I have a very serious pact (bordering on blood oath) that when/if they should reunite (and we will count 4 out of 5 as a reunion) even if it's for one night only, no matter where and no matter when we will be there. We owe it to our 14 year-old selves and that's all I'm gonna say about that.
2. Mumford & Sons
Scratching this one off the list in September — now if only I can put in my setlist request for Dust Bowl Dance and Liar…
3. Ray LaMontagne
Seriously, anywhere, anytime, this has to happen and I'd probably be one of those weirdos who would cry all the way through it 'cuz his music is just so damn beautiful (to think this guy was working at a shoe factory and just woke up one day and decided to sing is incredible to me…).
4. The Lone Bellow
We've already discussed how crazy obsessed (OBSESSED) I am with this band, you can read all 548 reasons why here.
5. Journey/Steve Perry
If and ONLY if Journey was to reunite with Steve Perry, I would be there, no question about it. (Don't even talk to be about that Asian kid, I don't care if he sounds like Steve, he's not and will never be Steve Perry, end of conversation). However, I would, as a substitute, accept Steve Perry by himself because I just love his voice and I don't care who knows it. If this has to take place at a county fair because things didn't go the way they should have for Steve, I can live with that.
6. Bruce Springsteen & The E Street Band
This is a no-brainer. I don't care how old he is, the Boss can rock and if I ever get the chance to see him do so, I will take it (and go through whatever channels I have to in order to request a live performance of Paradise because it's the beautiful, sad, moving song ever).
Although it hurts that after the loss of Clarence Clemons I will never see a re-creation of this in person:
7. Grace Potter & The Nocturnals
This is another group I've previously professed my undying love for. GP is actually coming to one of my all-time favorite venues (The Florida Theatre) next week, but unfortunately I do not have the funds or friends to make this one a reality at the moment. (Note to self: Must get boyfriend with deep pockets, a flexible work schedule, and an undying love for folk/rock music.)
8. Garth Brooks
Rumors are already circulating that Garth might come out of retirement and hit the road again next year or at least do a few shows in Vegas. If they're anything like his epic performances from back in the day, I would not hesitate to see him live.
9. Alabama Shakes
The Shakes are appearing on another stop in the Gentlemen of the Road tour, but so far have not been added to the list for St. Augustine. By whatever means possible, I hope they will find their way to the Southeast sometime soon so I can rock out to their sweet brand of Southern Rock in person (like I usually do in my car and at the gym).
10. Fun.
As if I needed any other reason to see Gentlemen of the Road, Fun. will be playing in the Friday set (though not headlining, which is surprising). Between now and then I will probably listen to Some Nights another 4,503 times  because it makes me insanely happy.
(Aside: Have you seen/heard the duet Just Give Me a Reason from Fun. frontman Nathan Ruess and P!nk? It's seriously amazeballs, go watch this live version right effing now. Also, is it just me or do they have the same hairstyle?)
11. Justin Timberlake
Anytime. Please. Make this happen. But don't let me get too close…I cannot promise what I might do if Justin Timberlake was ever to come within an arm's length of me. Cannot. Promise. Anything.
12. Bon Jovi
I don't think I have to explain this one – I mean, really.
13. David Cook
I've been kind of obsessed with David since he was on American Idol (and by kind of obsessed I mean totally, completely, strangely obsessed) but our paths have yet to cross in person. The first show of his post-Idol tour was actually at the FSU student union — but it was six months after I graduated and moved back home. Since then, he's returned to the Sunshine State twice, but both times I had previous engagements. I'm starting to get a complex…maybe he's avoiding me…no, that can't be it.
14. Marc Broussard
I had never heard of Marc before I saw him open for Maroon 5 at the Orlando House of Blues in 2003 (with Gavin DeGraw) but I've been a religious follower of his bluesy-soul-funk thing ever since. He's going to be back in Orlando next week, but once again funds and friends are keeping me from seeing him as a headliner. (Seriously, boyfriend, where are you?)
15. Carolina Chocolate Drops
Although they gained popularity with their folk version of Hit'em Up Style, the Carolina Chocolate Drops are so much deeper than that. I don't know of any other band that acts as a time machine the way they do. Listen to this and tell me you don't feel like you're on a porch somewhere in the Deep South around the turn of the century. Beautiful music.
16. The Lumineers
I don't care, the Hey-Ho song makes me ridiculously happy. The rest of their album is fantastic as well (it's become a regular gym jam), I would definitely love to see them up close (even if they are a lesser imitation of Mumford & Sons).
17. Emmylou Harris
As a self-proclaimed folkaholic, how could I not go out of my way to see one of the greatest pioneers of my favorite genre?
18. The Killers
If their Palladia special at Royal Albert Hall is any indication, this would be an epic concert event. Also, tell me you wouldn't enjoy singing along to All These Things I've Done…
19. P!nk
I have an all-around lady crush on P!nk, I love her music, her attitude, and I think she's an incredible entertainer. I can see one of her concerts being a very memorable and incredible experience (it would probably also be a really interesting people-watching experience, though absolutely NOTHING can top the Elton John show I saw in Tallahassee a few years ago…priceless).
20. The Who
I would not have said this before the Sandy Relief Concert, but I actually think it would be really epic to see The Who in person, if for nothing else than to hear Baba O'Riley live and see a Pete Townsend windmill in person (however, I would really, really, REALLY prefer if Roger Daltrey kept his shirt on,  please).