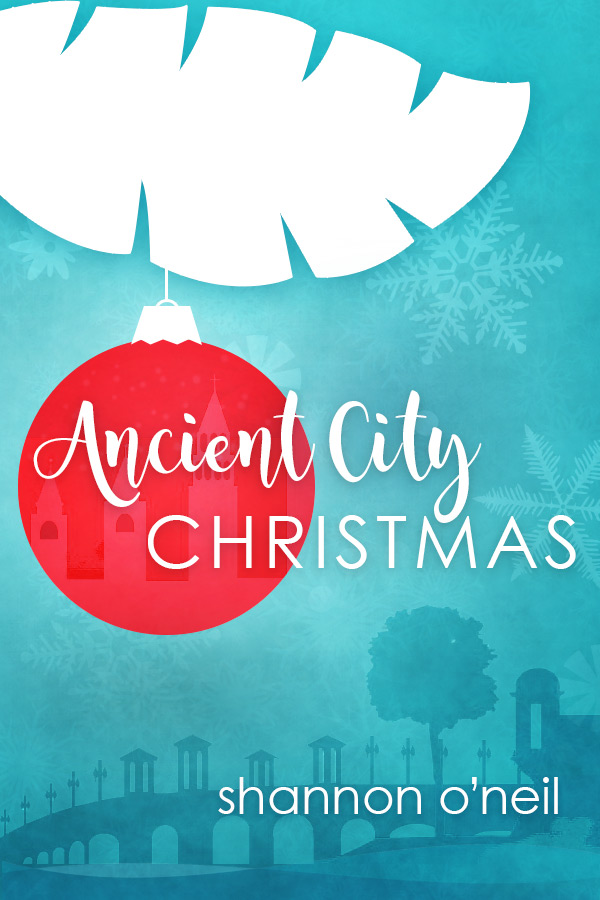 Bailey Hamilton is — literally and figuratively speaking — in quite a bind.
It's Christmas Eve and she is being held in the custody of airport security after causing a ruckus in the ticketing terminal on one of the busiest travel holidays of the year. But as Bailey will explain, she is not to blame for the situation at hand.
The Hamilton-Flowers-Danforth-Lopez family boasts more than two decades of Christmas celebrations gone wrong, starting with her parents' shotgun wedding and including a shameful mid-nativity divorce decree, epic family dinner battles, and a pile of other holiday catastrophes that have made Bailey's clan infamous in St. Augustine, Florida, their otherwise quiet and peaceful tiny seaside town.
But this year, the family has outdone themselves with tragic hujta fires and blasphemous parade floats; last minute weddings and the celebration of her stepmother's invented "Peacemas"
holiday. Adding to Bailey's seething impatience with her family, she seems to be the only one who remembers the tragedy that nearly broke them all.
Bailey would have left much sooner if not for the fizzling chance she had of reigniting an old flame with her childhood best friend, Memphis.
Now, in an effort to break free from Florida and return to her tiny, peaceful apartment in Boston, Bailey recaps the story of her family's colorful Christmas history to her captor — a lovably large security guard named Tony. Will it be enough to convince him to let her go?
And if she does go…will she ever come back?

Reviews for "Ancient City Christmas"
From author D.R. Cusack:
What is immediately obvious a few pages into this novel is that author Shannon O'Neil has quite a way with words. "My grandfather would sooner have seen his youngest son in full drag carrying a Jimmy Carter campaign sign than…" The whole story is punctuated with snappy little punchlines that make you laugh out loud and cause those sitting around you to eye you with suspicion and move away. Definitely better to read this when you are alone or out of earshot.
Comedy is tricky and weaving comedy into a serious story that has a great message is not a challenge for the feint hearted writer. So I think O'Neil has done exceptionally well in maintaining the comedic flow of the book whilst delivering a credible and compelling piece of dysfunctional domestic drama for us to enjoy.
I think O'Neil's greatest strength maybe lies in her character development. Some of the amazing nut cases she has conjured up are absolute gems. A personal favorite being the massive lumberjack simpleton Maylene. O'Neil has given only a tiny amount of detail in describing her and yet this character has fully metastasized in my mind. The other thoroughly enjoyable character is Olivia, whose complete insanity would give Batman's arch nemesis the Joker a run for his money. I dont want to spoil the fun for any potential readers out there by giving away too many of the jokes and shenanigans contained within though.
I'll Be Home for Peacemas is easy to read and moves along briskly. There are a lot of characters in this book and honestly I did get them confused at times, probably because I didn't get a chance to read this in just one or two sittings but kept coming back to it. The story itself is told as a recollection of past events and jumps randomly around the last few Christmases in the life of Bailey Hamilton. You know something big has happened, but you don't know what triggered it off and that suspense keeps you turning in the pages.
So if you are looking for something to take away for a long weekend of reading in the sun and you like that 'Meet the parents' kind of mad humour, then this is the book to pack.
– D. R. Cusack (click to read full review)
Amazon Reviews:
"This book is very well written. The characters all seem familiar in one sense or another and I found myself just hoping that they would all get their happily ever after. I laughed and cried and recognized some of my favorite local haunts. I can't wait to find out what happens to this wacky family in the future! I highly recommend this book to anyone who likes to read." – Candice Bent
"This is such a well written story, it's hard to believe that this is O'Neil's first book! The characters are well developed and all are memorable – you may even recognize some of your wacky family members! A book that makes me laugh out loud and shed a few tears is always a great book to share with others. O'Neil's writing style is fun and fast-paced. I hope there is a sequel because I am ready to read more about Bailey and her family! Get your copy today – you won't be sorry!" – LoveToRead