Bailey Hamilton is — literally and figuratively speaking
—
in quite a bind.
It's Christmas Eve and she is being held in the custody of airport security after causing a ruckus in the ticketing terminal on one of the busiest travel holidays of the year. But as Bailey will explain, she is not to blame for the situation at hand.
The Hamilton-Flowers-Danforth-Lopez family boasts more than two decades of Christmas celebrations gone wrong, starting with her parents' shotgun wedding and including a shameful mid-nativity divorce decree, epic family dinner battles, and a pile of other holiday catastrophes that have made Bailey's clan infamous in St. Augustine, Florida, their otherwise quiet and peaceful tiny seaside town.
But this year, the family has outdone themselves with tragic hujta fires and blasphemous parade floats; last minute weddings and the celebration of her stepmother's invented "Peacemas"
holiday. Adding to Bailey's seething impatience with her family, she seems to be the only one who remembers the tragedy that nearly broke them all.
Bailey would have left much sooner if not for the fizzling chance she had of reigniting an old flame with her childhood best friend, Memphis.
Now, in an effort to break free from Florida and return to her tiny, peaceful apartment in Boston, Bailey recaps the story of her family's colorful Christmas history to her captor — a lovably large security guard named Tony. Will it be enough to convince him to let her go?
And if she does go…will she ever come back?
Download the first chapter of Ancient City Christmas.

From the Author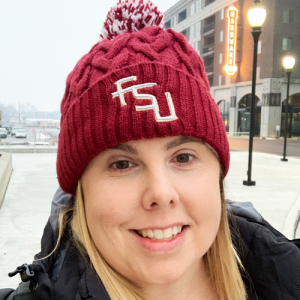 This book originated as an award-winning short story that I spent years working into a full-length novel. It is written from the perspective of Bailey Hamilton, a 23 year-old recent college graduate who has a complicated relationship with her family. At the time that I wrote it, I was (and this may come as a big surprise to you) a 23 year-old recent college graduate who had a complicated relationship with my family.
That said, this book is definitely not autobiographical. My family is considerably smaller and simpler than Bailey's, but my voice at that age and Bailey's are not all that different. We both have a wicked sense of humor, a slight penchant for over-dramatization, and a certain audacious sense that we are experts on, well, everything. (Again, that's how I felt at 23, I know better now!)
Still, I love this story and think it has a good message about the sacrifices and struggles that every family makes to love and accept each other as we are. I also love that this book takes place in my sweet hometown of St. Augustine. It is a magical place year-round, but there is something exceptionally whimsical about St. Augustine around the holidays. Our annual Nights of Lights tradition features millions of tiny white lights laced through the rooflines, arches and tree branches of the whole city, which casts an ethereal glow throughout the seaside historic town.
Whether you've visited St. Augustine before or not, I hope you'll enjoy taking a quick trip (if only in your mind's eye) to our touristy slice of paradise for the holidays. And I hope you will love getting to know the wild, colorful cast of characters that make up Bailey's crazy, but lovable family.