July 2008 – June 2009
In between working as a graduate assistant at Florida State University and taking a role in marketing and public relations at Old City Web Services, I spent almost a year consulting with a number of different businesses and organizations to provide graphic design, public relations and marketing services. The following are examples of projects I worked on during this time.
Florida State University Media Guides
Graphic Design
In conjunction with a fellow graphic designer colleague, I won four bids to create media guides for Florida State men's tennis, women's tennis, women's track and field and men's track and field. While my colleague worked on the tennis guides, I designed media guides and posters for both track and field teams. Examples of the completed work are below (click on the thumbnails to enlarge).
Event Consultant, Amanda's Bistro/City of Mexico Beach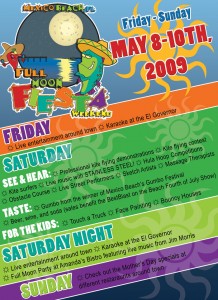 In April 2008, I was asked to do some event and public relations consultant work for the first annual Full Moon Fiesta in Mexico Beach, Fla. My duties included generating press releases and other promotional materials in advance of the event, which was taking place over a long weekend in May. During the three-day event, I also assisted in food preparation, concert set-up, talent management, staff organization, crowd control, crisis management, clean-up, etc. The event was a great success for the city and for the restaurant where most of the activities took place. It was a great experience for me as I was able to gain more experience in promotions and events, including some food prep and catering set-up work.
Press Releases:
Amanda's Bistro's 5th Anniversary [PDF]
Full Moon Fiesta [PDF]