Desperately trying to come up with a unique gift idea for your Secret Santa at work?
Searching for the perfect present to give a friend or family member?
Trying to get in the holiday spirit with a great read?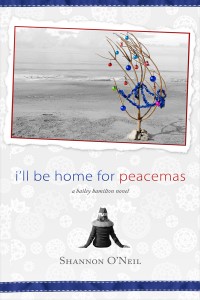 Share the holiday story of Bailey Hamilton, a twenty-something exile from her hometown in Florida who makes the pilgrimage home for the holidays in spite of haunting memories of Christmases past. You can get a signed copy of my debut novel, I'll Be Home for Peacemas from now through December 15th for just $10.00 (shipping is free for residents of the U.S. only).
If you'd like me to personalize the title page with someone's name or a special holiday message, just drop me an e-mail with your information (author[at]shannononeil.net) and request.
You can check out a preview of the first two chapters of the book here (in PDF format). Here's what some people are saying about this unique novel:
"…this debut novel by Shannon O'Neil, has something to please every ardent fiction lover – a dysfunctional family, a former flame, dark pasts, and a beautiful location backdrop in the 'Ancient City' of St. Augustine, Florida. It's a hilarious, fast-moving, wonderful break from usual Christmas fare and highly recommended for those cool (or, perhaps here in Florida, mild) winter nights."
– Nicole T.
"This book was incredible!!! The vivid imaginary of St. Augustine and the very personable characters make it one of the best holiday books that I have ever read! I was lucky enough to find this book over the holidays and I read it while traveling to see my family. I can't wait to read more books from her!"
– Mike
"This is a great book by a great author who really has a descriptive and fun way of telling a story. It's got unexpected twists and a ubiquitous sense of humor that carry the plot and make the book an interesting read. No matter your interests, you will definitely enjoy this book and I would recommend it to anyone looking for an escape into a realistic fictional world."
– Todd A.
"As a native of the 'Ancient City' portrayed in this novel and a member of a huge family, I can honestly say that Ms. O'Neil's setting and plotlines are perfectly executed! This book has just the right mix of humor, sarcasm, love, and catharsis – and I truly believe nearly any reader would be able to identify with the characters. A must-read! Can't wait to see more from this author."
– Marisa C.
**This now concludes my shameless self-promotion…seriously though…buy a copy of my book…**
Later days,
– Shannon