Confession: I'm becoming a little bit of a folkaholic.
What kind of horribly debilitating disease is that, you ask? Why it's the kind where a person becomes unable to enjoy any other kind of music except the sweet harmonies and soulful melodies of contemporary folk music.
It started with Ray LaMontagne and has blossomed into a loving obsession with all thinks folk-y including (but not limited to) Mumford & Sons, Swell Season, Amos Lee and the duo of John Paul White and Joy Williams more commonly known as The Civil Wars.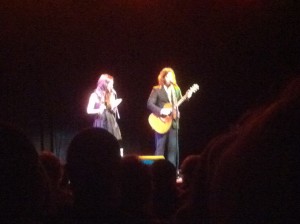 Don't let their recent association with Taylor Swift and The Hunger Games fool you — these two musicians are the genuine artifact. They are true artists with their beautifully blended voices and perfect mix of Southern Rock, Appalachian hymns and folksy blues. Swift is the crown princess of country music, but she's using her powers for good to introduce her lesser known (but incredibly talented) Nashville counterparts to a new generation of music fans.
(I wish the boybands I was obsessed with liked as a teenager had made an effort to extend my musical interests to new artists with powerful talent. I guess *NSYNC inadvertently did this with their fellow MMC alum and old tour partner Tony Lucca [now a contestant on The Voice] but they weren't pulling him onto popular soundtracks and blasting his praises to their fans. Of course they didn't have Twitter, Facebook, Pinterest, Google + or MySpace back then either…)
At any rate, The Civil Wars grabbed my attention with "Poison & Wine" and held it from start to finish on their first album, "Barton Hollow" (pronounced Barton "Holler" for you non-Southerners). When I heard they were coming to the recently renovated, 900 seat Ponte Vedra Concert Hall I couldn't get to Ticketmaster's website fast enough.
The show did not disappoint from the opening act (The Bellow–more on them later) to The Civil Wars' covers of Smashing Pumpkins' "Disarm" and Michael Jackson's "Billie Jean." I didn't think it was possible for them to be better in person, but their stripped down, acoustic vibe in that old church with the wood beams and cathedral ceilings was spectacular.
(A respectfully quiet crowd also made it an excellent show, save for the girl in front of us who sang along to the first few songs until someone kindly informed her that no one in the theater paid to hear her sing. This is why I'm not sure I could ever see Adele in concert.)
Their personalities also shined in their charming banter — even when John Paul responded to someone's request for "Freebird" by raising his middle finger and shouting "No charge!"
My only complaint for the evening was the seating. I can understand wanting to squeeze as many seats as possible into the tiny venue, but in a nation known for its obesity, tiny seats smashed together make for uncomfortable, airplane-type seating that gets very hot and very uncomfortable very fast. Especially for my very pregnant concert buddy who was so close to the woman beside her that when the woman took a pack of gum out of her purse at intermission, she offered us some (Toni's response: "Not unless you think I need it.") Seriously, PVCH, take one chair out of each row and put a little breathing room between the seats, it will make for a much more pleasant experience.
Other than that, I really can't say enough about how incredible The Civil Wars are and how much you NEED to buy their CD and see them in person. If I need any more reason to convince you, watch my video of their "Billie Jean" performance below or check out the other videos from the show on YouTube.
On second thought…maybe I'll leave them on the bucket list for a second go around.