Here's the downside to crafting:
(I know what you're thinking — there's a downside to crafting?)
It's really time consuming.
Also, it can very quickly (and without you noticing) empty your wallet.
So for the crafters out there who get the periodic urge to create something, but don't have the time for a long term, expensive project, I've decided to start a new recurring event on the ole blog:
The 10/10 Craft!
Every project will take about 10 minutes and materials will cost less than $10 — cheap, easy, but still fun!
First on the list of 10/10 crafts is this really cute, really fun, really Southern sign I scoped out on Pinterest earlier this month.
You'll Need:
Paint markers
A blank cut of wood (got mine at JoAnne's on sale)
Something to seal it with (Modge Podge or Clear Wood Stain)
Admittedly, I'm cheating on the budget a bit here because I'm assuming you'll have paint markers and your sealant on hand, but even if you have to buy both you're still going to stay under $15 for the whole project, not bad for a sign you'd probably see for $20 or $30 in the store!
I practiced my design by tracing the sign shape on a piece of paper and using a pencil to sketch out different layouts, fonts and leaf shapes. When I had my design where I wanted it, I used the pencil to draw it out first, then went over my design with my paint markers.
(Tip: Make sure you do the colors first, then go back and outline/add detail with the black marker to avoid bleeding)
Once the design is dry, you can paint on your choice of sealant and you're good to go!
I actually haven't sealed mine yet because I can't decide which to go with — I want to try the clear wood stain to bring out more of the grain, but I'm scared of messing up my beautiful sign!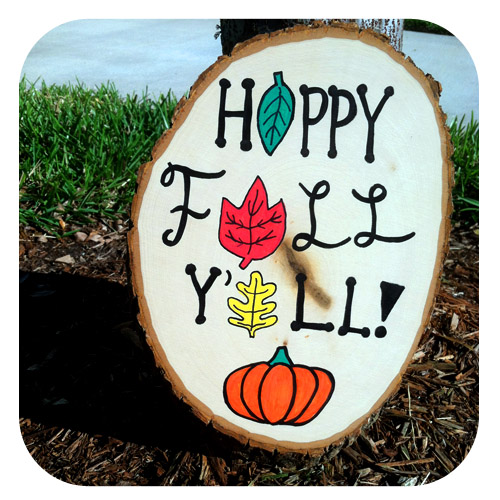 So there you have it!
Happy Fall Y'all!