Killer Shine simply would not exist without Candi Fisher.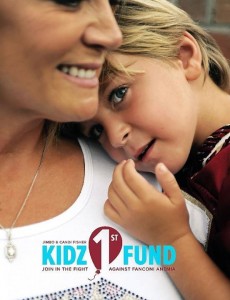 As I mentioned last week, the story of Candi's son Ethan touched me so much I decided to work Fanconi anemia into the Killer Shine plot to help spread the word about this incurable, life threatening disorder.
Candi and Cameron Ulrich from the Fishers' foundation, Kidz 1st Fund, graciously worked with me on making sure that I nailed all the details of FA for the book. They also allowed me to use the K1F logo and other promotional pieces to help tell people what they can do to help advance the quest for a cure.
And if that wasn't enough, Candi went above and beyond to pen a beautiful foreword for the book. 
Her words connect the non-fiction of FA and her family's story with the fictional tale of Milo Dawson captured in Killer Shine.
Here's Candi's foreword in full, and be sure you order the K1F/Killer Shine gift set to make a donation toward FA research!
Foreword
Fanconi anemia. Two words that sound so simple.
Words we'd never heard before, but they've changed everything in our lives.
When Jimbo and I got the phone call that Ethan did in fact have a rare, possibly fatal blood disease, it was a normal night with Jimbo and the boys out riding in the golf cart in the neighborhood, and I was cooking dinner. When the phone rang and I saw it was Dr. Bill, my heart almost stopped. I knew then and when he confirmed it, I fell to the floor. When I got off the phone, I made 2 phone calls. The first was to Litzie Martin and the second was to Tara Trickett, and then I left to find my husband and my sons.
I can still tell you what I had been cooking…spaghetti that was never eaten. I can tell you that I had on my pajamas and no shoes. I drove to the cul-de-sac where I knew they'd probably driven back into the woods, and I got out of my car and ran barefoot across rocks and branches screaming my husband's name. As they came out of the woods, Jimbo knew and tried to hold it together. Ethan said "what's wrong" with horror on his face, and Trey began to cry and he asked me if Ethan was going to die.
That day was March 28, 2011.
It took us so much time, reading, asking questions, prayer, and visits with doctors to understand what exactly we could expect, but with FA, no two children travel the same path, so they can only speak to us in generalities and statistics. That's because the people who've dedicated their lives to this disease, and have brought it so far, still have a long way to go. They still don't know enough or understand enough about this disease.
Here is what we do know:
A person with FA cannot repair the normal, daily damage to their cells like people without FA. This damage is caused by many elements in our environment including sun, smoke, and many chemicals. When this damage happens, these cells either die or become cancerous cells. Cell death leads to rapid aging and obviously accumulating cancerous cells over time is deadly.
Once an FA patient gets a cancer, the issue is it cannot be treated with the standard protocol.
This is because a large amount of chemo and radiation damages the cells more rapidly, and as I said earlier, the body can't repair that damage. Too much radiation or chemotherapy at once, and the patient will die.
The short term issue for FA is that it leads to bone marrow failure.
Ethan will eventually stop producing white and red blood cells and platelets. Most FA patients will require a bone marrow transplant at some point to correct this, and the average age of this is around 12.
But the hardest part for me to accept is the fact that there is no cure.
That's why we started Kidz1stFund. We are working hard to raise money for vital research to find better treatments, and possibly a cure for Fanconi anemia. We also want to bring about awareness! We want everyone to know these two words that have changed everything for us. We also want families who are newly diagnosed to hear our story. I hope that it inspires them. I hope it alleviates some of their fear, and I hope that it ensures them that they are not alone.
This disease has taken a lot from our family.
Mostly it has taken our contentment and peace of mind. We will never again live life without having our guard up. I guess it's a defense mechanism, but one thing is for sure in all of this too, and I know how crazy it sounds, but FA has also given us a lot. As a family we cherish each moment. We try not to take one another for granted, and we have met so many people who've affected our lives forever. As much as I hate this disease and that my child will never get to live without worry, I know that we will all be there with him every step of the way and we will not stop fighting to ensure that he, and everyone with FA, live long and healthy lives!
We'd like to thank Shannon for including Fanconi anemia as a part of her novel! This is the kind of attention and exposure this disease needs in order to bring about change, and we are so grateful that she wanted to help us in saying, "I Fight Fanconi!"
— Candi Fisher, October 2013
Candi Fisher is the wife of Florida State head football coach Jimbo Fisher and mother to two young boys, Trey, 12, and Ethan, 8. While many know Candi as the first lady of Florida State football, her ambitions center on life behind the scenes: raising her active sons, leading her family's nonprofit Kidz1stFund, and keeping the Florida State football family connected.
For more on how you can help fight Fanconi anemia, visit Kidz1stFund.org.