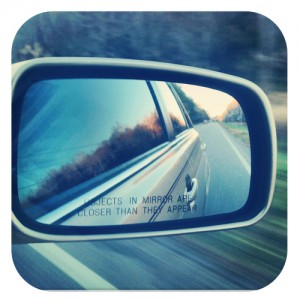 The feeling starts not long after crossing the border, south of Dothan.
Though the cotton fields are long past harvest in late November, a light dusting of leftover rebel snow is still tangled in the grassy shoulders of the road. From the car window I can see it, trembling in the autumn wind, telling me I'm headed in the right direction.
Traffic thins after Montgomery where the two lanes of State Road 82 bend northwest in a rolling black stream rising and falling with the hills of central Alabama. Yellow leaves gather in piles against the canted remains of old barns and roadside barbecue shacks dotting the rural highway. Past Centerville the road widens and the billboards wash over with houndstooth and crimson.
At last, after ten long hours, I catch sight downtown Tuscaloosa's long shadows stretched across the glossy surface of the Black Warrior River. Three turns past the Dreamland sign and I'm in the driveway of my aunt and uncle's house — a place that feels as much like home to me as any house I've ever lived in, not because of what's on the outside, but because of who's on the inside.
My first trip to Alabama for Thanksgiving was in 1985, just a few weeks after my first birthday. We've returned nearly every year since, gathering with my mom's kin in various family members' homes from Montgomery to Birmingham, Wetumpka to Tuscaloosa.
It simply does not feel like Thanksgiving to me if my feet aren't on Alabama clay.
I'll let my photos (and a few captions) tell the rest of the story about the wonderful Thanksgiving of 2013.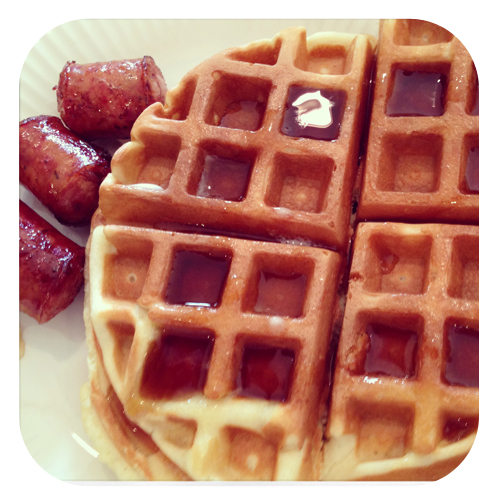 You know it's going to be a day of old school Alabama feasting when it starts with homemade waffles and CONECUH SAUSAGE. I cannot emphasize to you enough that at some point in your life, you MUST indulge in Conecuh (KUH-neck-uh) sausage. It's made in Alabama near its namesake, the Conecuh River. I wouldn't care if a medical professional told me every consumed ounce of this sausage takes a year off my life, I'd still have inhale it at least twice a year.
I live life on the edge like that. I'm dangerous.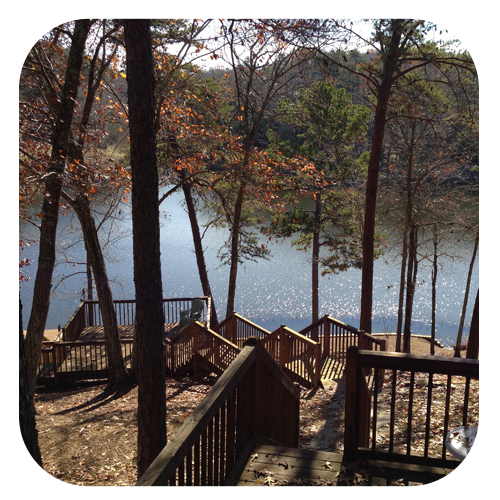 My aunt and uncle recently purchased a new family lake place up on Lake Tuscaloosa (about a twenty minute drive out of the city). I went up to see it for the first time on Thanksgiving morning and nearly had to be dragged away from this gorgeous view. Standing on the screened porch off the back, the morning was so peaceful I could actually hear individual leaves falling and bouncing among the branches as they drifted to the ground.
Though we can never replace our original family lake house, BoGaHo, I can't wait to get back up here in the summer and start a new chapter of family memories in this place.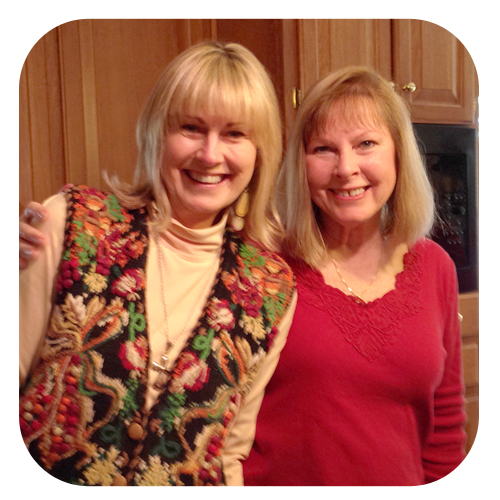 My mom (right) and her sister Amy were the head chefs for our Thanksgiving feast this year. Hanging out in the kitchen with these two (and my Nana) is always a highlight of the day. Most of the recipes we use are edible heirlooms passed on from my great-grandmother, Mama (pronounced MawMaw), who used to host all seven of her children (and their children and grandchildren) on the family farm in Wetumpka for Thanksgiving every year.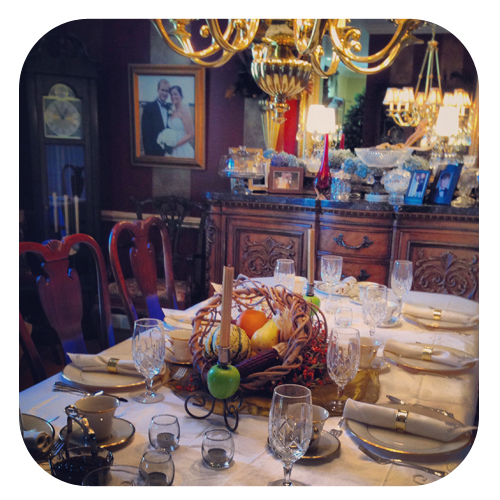 My Aunt Amy's whole house is worthy of a multi-page spread in Southern Living, but her table settings are always especially spectacular. I can only dream of living up to her decorating talents!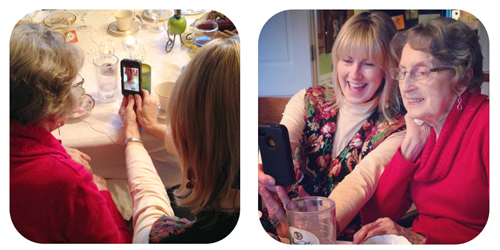 Technology is amazing.
My cousin Chris and his family couldn't make the trip from North Carolina to Alabama this year because he's getting ready to deploy overseas with his fellow Marines. But FaceTime brought us all together at the table for a great chat!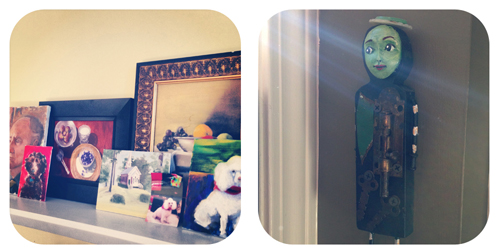 Aunt Amy's house is loaded with some incredible art. She's a fantastically talented painter herself (the paintings above are hers, positioned on a shelf in her studio where I usually stay when I visit) and also advocates and assists artists as the executive director of the Kentuck Art Association. The little witchy-lady is one of my personal favorites from Kentuck!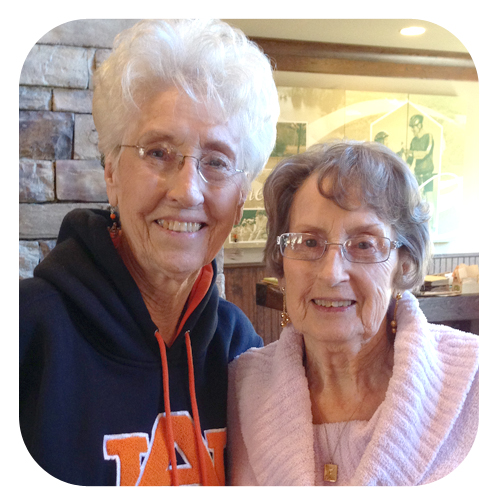 The day after Thanksgiving we made a two-hour trek south to Wetumpka, near my great-grandparents' farm (which is still in the family) and gathered with our extended kin. My Nana (right) and her sister were among the guests of honor. My favorite part of the day was actually the drive to and from Wetumpka, just getting to spend some quality time chatting with my Nana, mom and aunt.
Oh and the Alabama football bus passed us on their way down to Auburn with a police escort! Aunt Amy (an Auburn grad) and I booed the heck out of them (I'm not saying that's what led to their loss, but I'm not saying it didn't either).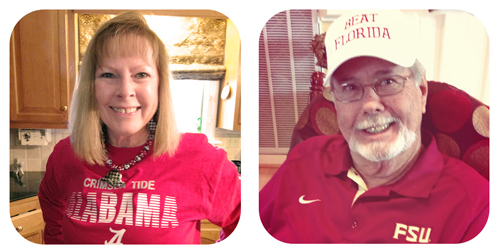 Speaking of football — the family gathered around some Dreamland barbecue and boiled peanuts to watch a couple of big football games on Saturday afternoon. Of course my dad and I enjoyed the heck out of my Seminoles walking all over the Gators! But my mom was not so keen on the surprise ending to the Alabama-Auburn game.
While most of the family sulked (except my aunt, who was doing a little dance around the house) my dad and I were trying to contain the joy of knowing our team is about to step into the #1 spot headed into the post-season!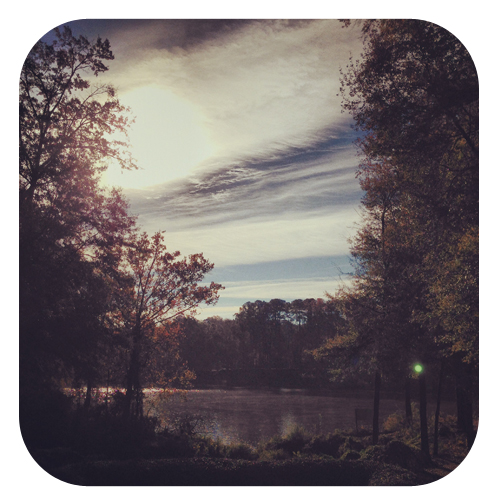 Last note (bear with me for a moment on this one).
So I took the above picture on Thanksgiving morning from the back deck at my aunt and uncle's house, looking out on the Black Warrior River.
You see that little circle on the right? It wasn't in the picture I took before or after this one, from the same angle of the same setting. But in this photo it's clear as day, hovering above the water's surface (so it's not a reflection of the sun on the river). What is it?
I can't be sure, but my first thought when I saw the image was of my grandfather who passed away earlier this year. It was our first Thanksgiving without him, but I felt his presence with us all day and I'd like to think this photo was evidence that he found a way to share the special day with us.