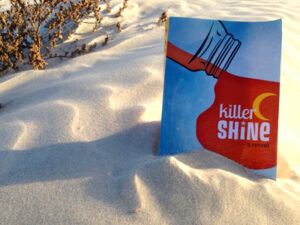 Put your finger on the Florida/Georgia state line and drag it east until you hit the ocean. Right there, under the tip of your fingernail, is a tiny slice of paradise called Crab Island. This colorful and unique place is where Southern traditions and Sunshine State style have melded as one — seafood is served with sweet tea, kudzu grows next to the sand, and palm trees obscure the workings of a moonshine still….
Jacqueline "Jac" Dawson rolls over the old wooden bridge onto Crab Island after a ten-year absence and one ill-advised marriage to find the landscape and locals of her colorful, eccentric, yet somehow perfect home unchanged.
On the island's southern tip, Jac and her six-year-old son, Milo, settle into Unit 5 at the Dawson family's unique residence, The Pink Mermaid Motel. Privacy is at a premium in the twenty-room magenta monstrosity, but the chaos is just what Jac needed to heal from her painful divorce.
Back on her feet, Jac lands a new job (Sports Information Director for Florida University) and a new boyfriend (State Trooper Tucker Kowaliga Lee). Excitement builds for Jac and the rest of the island's residents as the university's Fightin' Crabs football team gets off to an impressive, undefeated start — well on their way to a championship season.
But one foggy October night changes everything.
Moonshine and murder split open the island at its seams. Old family grudges wash up on shore, gossip slips between the palm fronds, and accusations sour the sweet tea.
Jac quickly finds herself at the center of a tangled web of secrets and lies where freeing a murder from prison is the only way she can save her child's life.
Pack your bags, it's time to catch some killer shine on Crab Island…

Killer Shine Reviews
"I really enjoyed the mix of family ties and troubles that tied this story together. The characters were honest and relatable, and proved every bit as dynamic as most of the southern families that I know. It made the story come across as real, instead of fiction."
– Jaime, 5 stars

"Kept my imagination all the way. This author is going to (in fact, already does) "SHINE" and I eagerly await her next book. So professional for a young writer and I would rate this story above some of the long time mystery writers."
– Odessa, 5 stars

"Author O'Neil does such an awesome job with getting you involved in these characters, you will not want the story to end. Will there be a sequel? I hope so, I would love to see how the family story continues."
– Loves to Read, 5 stars

"This was one of those books you can not put down. The writing was excellent and the story line kept me interested."
– M J, 5 stars
Killer Shine FAQ
Is there an eBook version?
Yes! You can grab the eBook or paperback at Amazon.com.
What is Fanconi anemia?
Fanconi anemia is a rare, but very serious medical condition that affects about 1 in every 131,000 people. People with FA can have a variety of health issues ranging from hand and arm abnormalities to heart, kidney, and hearing problems. The average life expectancy for a patient with FA is 29 years.
What does FA have to do with Killer Shine?
Milo Ryan, a freckle-faced six-year-old at the heart of Killer Shine, is diagnosed with Fanconi anemia in the book and faces a difficult journey to find a well matched bone marrow donor who can save his life.
My inspiration for Milo's character and his brave battle with Fanconi anemia came after hearing the story of FA patient Ethan Fisher, youngest son of Jimbo & Candi Fisher. Candi also wrote a beautiful foreword for Killer Shine, in which she shared the story of how two little words changed her family's entire life.
How can you help fight Fanconi?
1. Make a donation to Kidz1stFund
Visit the IFightFanconi.com to make your pledge to the nonprofit started by Jimbo and Candi to raise funds and awareness for Fanconi anemia research.
2. Join the National Bone Marrow Registry
It only takes a couple of harmless cotton swabs for you to join the registry and possibly save someone's life. Visit BeTheMatch.org now to sign-up!