Hi, my name is Shannon…
(Hello, Shannon!)
…and I've been addicted to Florida State football for twenty-six years, eleven months and sixteen days.
If you know me at all, this announcement does not come as a surprise. For those who don't know me that well, here are the cliff's notes of my life's obsession:
In 1993, I made up my third grade mind to go to Florida State in the instant that the Seminoles won their first national championship.
In 1998, I begged my parents to let me switch schools after all the smack I talked leading up to the '97 championship loss to Those We Do Not Speak Of.
In 2002, I sent in my application to FSU days before my senior year even started. I received my acceptance letter in October and never looked back.
From 2003 – 2005 I attended 15 of the Seminoles' 18 home games those three seasons. The team's record when I was in attendance? 15-0. The team's record when I was not in attendance? 0-3.
From 2006 – 2008 I worked in the Sports Information office at FSU as an intern and graduate assistant while finishing both of my degrees. I met Bobby Bowden, spoke to Chris Weinke and came within five feet of Charlie Ward.
Since leaving Tallahassee in 2008, my friends and family would probably say that my addiction to Seminole football has lessened, but that's a relative term. And if we're being really honest, I think we'd all acknowledge that it's not ever going away, it just becomes deceptively dormant until something sets it off again.
Something like, say, visiting Tallahassee with my former college roommates to see Florida State take on Maryland.
I need to tell you a quick story about Florida State and Maryland. Despite being a lifelong 'Nole fan, I was eighteen years old before I saw my team in person for the first time. It was September 6, 2003 at Doak Campbell Stadium and the Seminoles were playing their home opener against the Maryland Terrapins. At the time, I was ridiculously obsessed with FSU's quarterback, Chris Rix (I am ashamed to admit this, but they say honesty is the first step to recovery). Maryland had the first possession of the game and after a three-and-out, the Seminole offense, led by Rix, took the field around the ten yard line outside the North Endzone, 41 rows below my seat. It was the single happiest moment of my life to that point. Rix took the first snap, dropped back and did what he would be most remembered for by Seminole fans for years to come; he threw an interception.
Not just an interception, it was a pick-six that was returned into the aforementioned North Endzone for a Maryland touchdown. As the scoreboard changed to reflect the Terrapins' 7-0 lead, fat rain drops began to plummet from the sky. Even now, eight years removed from that moment, I can't accurately describe to you how devastating it was for me.
Fortunately, the rain passed quickly, as did the Seminoles' struggles. FSU beat Maryland that day 35-10, launching my 15 game winning streak inside Doak Campbell Stadium (full disclosure: Although I did see the Seminoles march to victory at the 2005 Gator Bowl and 2005 ACC Championship, I also saw them lose to Penn State in triple overtime at the 2005 Orange Bowl–but inside Doak or Alltell Stadium, I'm money!)
Okay, so enough about my Seminole history. I'm going to let my photo collage describe my game day experience.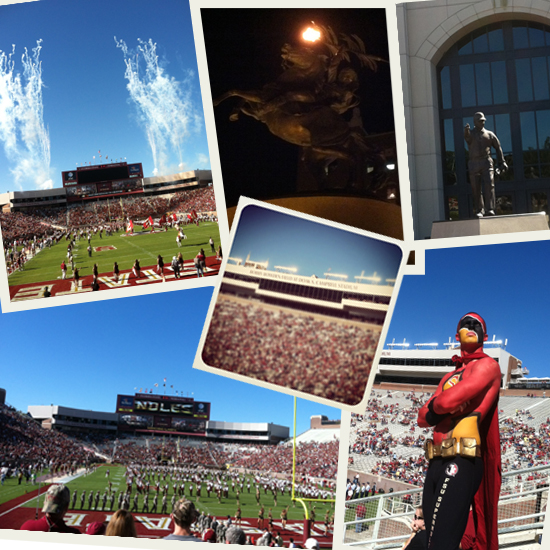 Now that we've covered my obsession with Florida State Football, tomorrow we have to address my other Tallahassee addiction: food.
Later days,
– Shannon