Every good Southern gal loves her Nana.
Mine is turning 87 years-young on Thursday and while I will be enjoying (really, really enjoying) my last week of 9 to 5 work before embarking on my new solo career, my parents are headed up to Alabama to celebrate with Nana on the Big. Day.
I decided to take advantage of getting to circumvent the messy and expensive cost of shipping and make something nice I could send along with my parents as the perfect birthday gift.
Fortunately, I'm on a big wreath kick at the moment and I knew Nana's door at her apartment would be a stupendous spot for a gorgeous fall wreath.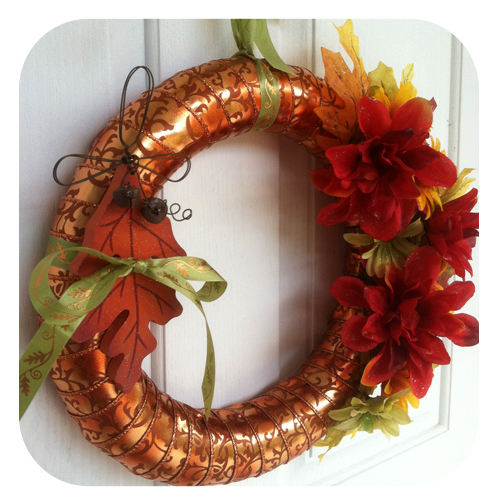 In a flash, I was off to Hobby Lobby on a mission!
God love Hobby Lobby and their sales, I happened to show up on a day when all fall decor items were 40% off. It took everything I had (EVERYTHING) not to request one of everything, bagged and delivered to my car A.S.A.P.
The ear-piercing shriek of my shriveled wallet kept me moving forward, however, to select just a couple of special items from the aisles upon aisles of monogrammed pumpkins, colorful fall leaf vines (the only kind of autumn color we get to see around these parts, unfortunately) and cinnamon-y smelling goodness.
After an hour (or two) I had carefully selected:
One spool of 3″ wide, gorgeous, shiny orange ribbon with a beautiful pattern
One spool of 1/2″ wide, gorgeous, shiny green ribbon with a beautiful orange pattern
A wooden leaf with rusted wire and jingle bells
One package of loose autumn leaves
A package of cinnamon sticks (because I just had to leave that store with that smell–HAD to).
Oh and of course, a styrofoam wreath form (I want to try this Pinterest tip for making wreath forms WAY cheaper, but I'm scared!).
On the way home I stopped at the Dollar Tree and snagged some decent garnet, yellow and pale green flowers. Dollar Tree isn't going to win awards for its faux flowers or anything, but they are more than sufficient for the occasional craft project (especially when you add splashes of glitter–oops, I just gave away the ending!)
I used two of my dress maker pins to secure one end of the ribbon, lined the outside of the wreath with double-stick tape and went to town wrapping that bird in my shiny orange ribbon (note that I am normally not a fan of orange, but made an exception in this case).
With the wrapping completed, I arranged the leaves on one side of the wreath and pinned them in place to form a perfect fall backdrop (I wish I had pictures of the process, but I was so in tune to what I was doing I didn't think to stop and snap a few shots between steps, sorry!).
I plucked the heads off my Dollar Tree flowers and arranged them on top of the leaves, making sure the leaves poked out from the top and sides of the arrangement. Once I had them pinned where I wanted them, I took each one off, added a dab of Aleene's Craft Glue (crafting staple!) and secured it in place.
On the opposite side of the wreath from the leaves & flowers arrangement, I used my green ribbon to tie on the wooden leaf with bells so my Nana's door would jingle each time she opened and closed it.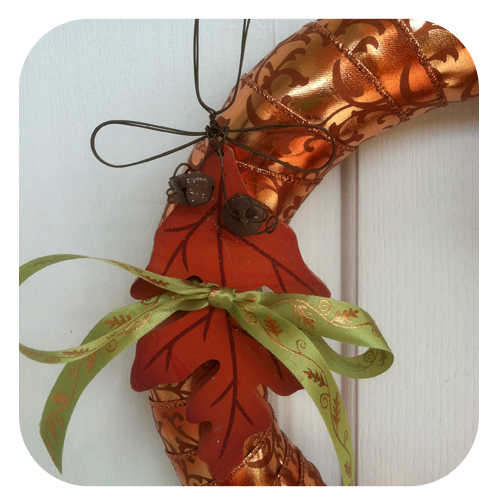 Twenty-fours later, with the glue dry, I looked upon my finished project and thought — nope, it's not there yet!
From the depths of my closet I recovered a bottle of kids' silver glitter glue paint from an old craft project and brushed it onto my flowers and leaves with reckless abandon.
When the paint dried, my creation was officially completed!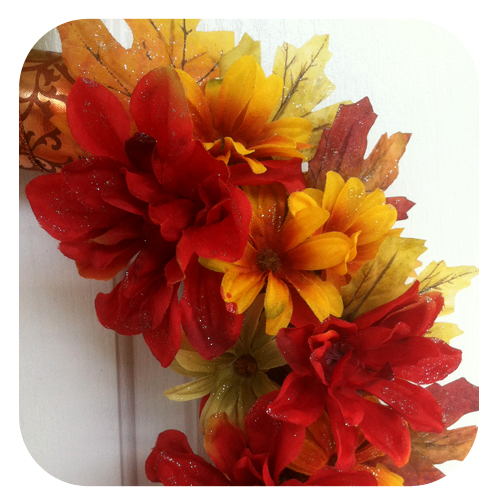 Nana loved it and promptly guilted one of my cousins into hanging it up for her (sorry Jess!).
Now I guess I need to get to work on a Christmas wreath for her to take up at Thanksgiving…
Off to Hobby Lobby again! Woo hoo!