I love Halloween so, so VERY much that I decided to throw together two more 10/10 crafts to get you in the spirit spirit (see what I did there?) without breaking your budget OR forcing you to tumble down the crafting rabbit hole (a very intense time-suck made almost entirely of glitter, in case you were wondering).
For this pair of fun crafts, I decided to make mini wreaths, perfect for hanging on the windows or interior doors for a little extra festive boost. They were so easy (and cheap) to make that I had a brief vision of myself dozens of different fall-inspired wreaths to cover the house and share with friends.
Then I came to my senses and decided to stick with just the two.
Harvest Wreath
You'll Need
This whole thing started on an innocent trip to Michael's when I stumbled across their straw wreath forms. Though not as perfectly shaped as their foam brethren, they're cheap, which makes them super appealing. The little ones are only about $2 apiece, so I grabbed one, then decided to live a little dangerously and pick up two for experimentation.
Before leaving the store, I passed through the floral department and found an assortment of pre-made arrangements of fall leaves with decorative items like fake fruit, beads and those super annoying (and cheap-looking) foam ball things. I picked out one with some translucent plastic beads that was $2.50, so combined with my aforementioned wreath form and the orange ribbon I scored from the dollar bin this was actually a $6 craft.
I left the shrink wrap on my wreath form because the straw WILL shed as soon as you take it off and make a HUGE mess. I planned to give this one to a friend as a gift and wanted to let her be the one to take the plastic off so she could clean up the mess enjoy it as though it were brand new.
All I had to do for this wreath was to attach the arrangement with my ribbon and bend the leaves into a placement I liked.
I hung it on the window with some of the same ribbon used to attach the arrangement and a simple suction cup.
5 minutes, $6, great wreath.
Some things you could use this for:
Kids classroom gift
An elderly friend or family member in a nursing home
Your cubicle at work
Googly Eye Spider Wreath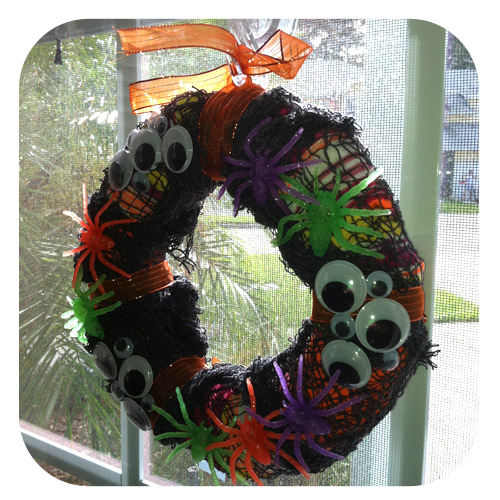 You'll Need:
Straw wreath form
Ribbon
Googly Eyes
Glittery spiders
Kids Socks (Pack of 3)
Scary Cloth (Or some sort of black netting)
After the fantastic time I had creating Halloween ghosts with my friend Tori's little girls, I was itching to do another fun kid craft (especially if googly eyes were involved).
Since I didn't have a vision for this wreath right away (like I did the Harvest Wreath) I decided to experiment with minimal investment, so I picked up a few items from the Dollar Tree — googly eyes (assorted sizes), glittery spiders (in the kids' toy area), scary cloth (a Dollar Tree Halloween staple) and a three-pack of colorful kids socks.
At home, I cut the toes, heels and elastic band off the socks to make two sections of fabric, then wrapped each one (alternating the colors) around the wreath and glued them on. The ragged pieces didn't quite cover the whole thing, but when I wrapped the scary cloth on top of it, I got the effect I was going for with color peaking through behind the black netting.
I glued on some leftover orange ribbon from my Harvest Wreath to add some additional color, then filled in each section by gluing on my eyes and spiders.
Look, I'm not trying to say it's the prettiest wreath ever, but it's REALLY fun. You could jazz it up with other little Halloween toys or decorations, too. You could also find some fabric scraps at your local craft store to use instead of the socks, if you wanted to.
Some things you could use this for:
Classroom kids craft (each kid could make his/her own)
Fall festival prize
Trick-or-treat porch decoration.