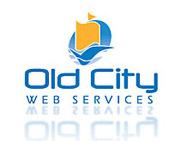 Old City Web Services
June 2009 – Present
My job responsibilities at this small marketing and design boutique have included generating concepts and content for a multi-tool marketing campaign, analyzing campaign results, managing and developing new client relationships, establishing long-term connections with community organizations to benefit business, handling sales for multiple services and products, writing custom proposals based on client presentations and acting as liaison between staff and clients during project production to ensure efficiency, meet deadlines and exceed goals.
WORK EXAMPLES
Marketing Tools
• To educate potential clients on the services offered by Old City Web Services and their benefits, I created a series of one sheet summaries for each service. Sales staff provided the information to clients at initial consultations and networking events to promote the business. «See PDF of Marketing One Sheets»
• I also led creative direction and copy writing efforts to create a brochure suited to mass mail out campaigns for Old City Web Services. «See PDF of the OCWS Brochure»
• In order to market our extensive services to our existing clients, I initiated a series of monthly bill inserts. These inserts promoted a specific service of the month as well as our weekly marketing e-mails. «See PDF of the December 2010 Bill Inserts»
• In addition to the design and marketing services offered by Old City Web Services, the company also has an advertising web portal for St. Augustine and the surrounding areas. In order to promote this portal, OldCity.com, I created an annual statistics report for existing and potential advertisers to see the kind of exposure their ad would receive on OldCity.com. «See PDF of OldCity.com 2010 Statistics Report»
Marketing Research
Old City Web Services offered me my first opportunity to work extensively with statistics to analyze the results of my marketing campaigns. My research has been conducted via the following methods (out of respect for my employer's confidentiality, I am unable to provide example research documents):
1. Google Analytics: To measure the results of marketing campaigns for OldCity.com, I monitor the Google Analytics stats for the website every day. I pull comparison reports over weekly and monthly timelines to see where we are showing improvement and where we are slipping in areas such as total visits, average time on site, average number of pages per visit, etc. Most importantly, I monitor where our traffic is coming from. During campaigns it's important to note how much traffic is driven to OldCity.com from social media websites and any sites where we have purchased advertising to assess what our return on investment is, in terms of both time and money.
2. E-Mail Marketing Statistics: Through the e-mail marketing program Ratepoint, I can measure the success of individual campaigns by analyzing statistics including the percentage of total e-mails opened, links clicked on, etc. I also separated our e-mail marketing list into multiple groups to test different marketing strategies. I sent e-mails on different days of the week to determine when we received a larger percentage of opens (Thursdays) and tried different subject lines to see what would hook people (numbers) and whether or not we would get more clicks with a shorter e-mail versus a longer e-mail (shorter). All of this research has helped to make our e-mail campaigns more effective.
3. Social Media Analytics: Both Twitter and Facebook have recently added "insights" that make it easy to measure the reach of our social media campaigns. I have analyzed the data to fine tune our social media strategy by using the number of insights and responses to posts throughout the day to determine what time of day we receive the most traffic (typically from 1:00 p.m. to 4:00 p.m.).
Blogging & Social Media
In order to promote Old City Web Services and OldCity.com, I maintained social media accounts (Twitter and Facebook) for both as well as separate blogs for each. I created regular tweets and status updates on Facebook to bring people to OldCityWebServices.com and OldCity.com and maintained weekly blogs to provide valuable information for visitors and clients as well as additional content for search engines to read. Click on the links below to see the work I put together for each.
«OldCity.com: Twitter • Facebook • Blog»
«Old City Web Services: Twitter • Facebook • Blog»