I never…
…ever…
…in my life…
…want to see…
…another muscadine grape.
Not. Ever. Again.
I learned a very, very valuable lesson making muscadine jelly courtesy of my lovely mother.
After my brother and I returned home from North Georgia, I called my mom (who was still up there) and asked if she would bring back some muscadines because I wanted to try and make some jelly.
VERY IMPORTANT LESSON: THE WORD "SOME" DOES NOT MEAN THE SAME AMOUNT TO EVERYONE!
When I said "some" what I meant was maybe, say, a pound. Enough to make a half-dozen jars so I could have some for myself and maybe share with a few lucky friends.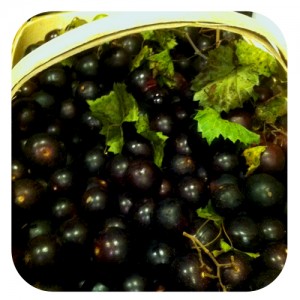 My mother, however, took the word "some" to a whole 'nother level. A level that most people would probably call "a lot."
She came home with 24 lbs of muscadine grapes.
TWENTY-FOUR POUNDS!
Not only did this make a buttload of muscadine jelly jars, it took an entire weekend to execute what some ridiculous fools on the internet refer to as an "easy' three step canning process.
I should note that my only experience with canning prior to this was with pear preserves, which are MUCH simpler to make. You cut the pears, you add a buttload (my official measurement of the day) of sugar, you cook them in a big pot and you add them to the jars.
NOT THE CASE with muscadines.
Step One: Rinse off all twenty-four pounds of muscadines and put them in ginormous pot.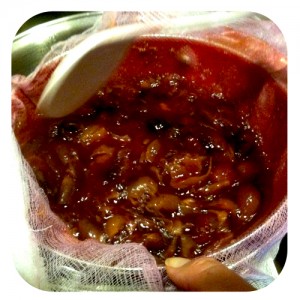 Step Two: Mash up all twenty-four pounds of muscadines in said ginormous pot (this part was actually a good stress reliever, although I would have taken more pleasure in it near the end of the process when I was so sick of seeing muscadines I could really have thrown my weight into crushing them for fun).
Step Three: Cook the twenty-four pounds of crushed muscadines to extract as much of the muscadine juice as possible.
Step Four: Pour the twenty-four pounds of muscadine shells/meat/juice into cheese cloth inside a strainer to filter out just the juice. Some people have a handy tool for this that attaches to your pot so you can just sit the fruit in the strainer and let them sit for a few hours while they filter out.
Of course those nice folks don't have TWENTY FOUR POUNDS of muscadines to strain either.
We tried to speed up the process by pressing/massaging the muscadine carcasses to get the juice coming through faster, but I'm not sure it made much of a difference. If we'd been patient we probably could have gotten more juice and therefore more jelly, but we weren't exactly short on supplies.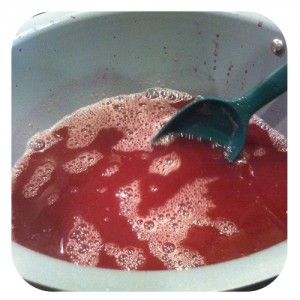 By the time we extracted the juice it was after 9:00 p.m. on Saturday and we'd been in the kitchen ALL DAY tending to our TWENTY FOUR POUNDS of muscadines. So we stored the juice in a stainless steel pot in a plug-in cooler overnight so we could resume the fun the next morning.
Step Five: Separate juice into batches, add sugar and bring to boil on the stove. Add sure jell, bring to a boil again, and then the real fun starts — it's canning time!
Step Six: Full disclosure here (if you're a canning traditionalist you might want to look away) we did not use a canner for this process. We discussed it, felt pretty confident that we didn't need one, but differed to the ultimate source on the issue — my nana. She concurred via phone that the canner wasn't needed, we just had to boil the jars, lids and rings to sterilize them.
Here I should add that it is very, VERY worth it to get the Ball canning kit (we got ours at Wal-Mart) that includes special jar tongs and a magnet on a stick, which seems like a small thing but it is a HUGE help when trying to fish the rings and lids from the boiling pot of water.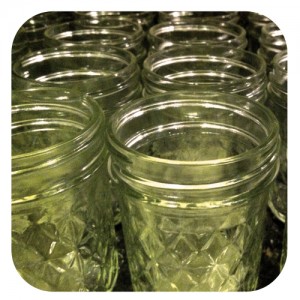 So in quick fashion, we removed a jar from the boiling water, filled it with boiling jelly liquid, topped with a seal and ring, set aside, and moved on.
We did this approximately 10,458 times.
Okay, maybe it was more like 3 dozen jars but STILL. It seemed like a MILLION at the time!
After the first batch, we decided to get creative and conduct some food experiments with our muscadines.
Here in St. Augustine we have a popular native pepper called the Datil Pepper. It was brought over here by some early settlers to the area (the Minorcans) and has been a staple ingredient in chowders, chilis and other meals ever since.
It's got a great flavor, just enough spice, and at least ten different companies in town make phenomenal sauces and pepper jellies from it.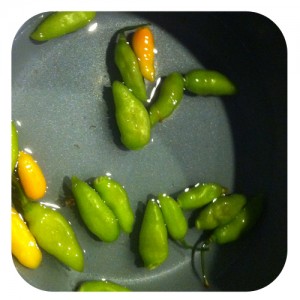 We happened to have a few datil peppers on hand, so we decided to boil them up and add the juice to our muscadine jelly, thereby creating something I dubbed Muscadatil jelly.
The first experiment was a raving success. We mixed the two in one jar, threw it in the fridge, and as soon as it settled the whole family was raving over the flavor (mixed with cream cheese on a Ritz cracker as God intended for all jellies).
Unfortunately, through two full batches, we were unable to replicate the exact flavor on a larger scale.
We got the heat, which still made for a good twist on the regular sweet muscadine flavor, but we were never able to really pull in the unique taste of the datil itself, just the spice.
So when all was said and done, we finished up with just over three dozen jars of muscadine jelly (two-thirds of them were Muscadatil, some mild and some REALLY hot).
As of right now, I would say that I will probably never make muscadine jelly again (and not just because I now have a lifetime supply of the stuff).
But I'm sure as time goes on and my memory glosses over my two-day muscadine extravaganza, I'll change my mind.
Probably.
Maybe.
Oh and if you're reading this and you're part of my family or close circle of friends, I'll give you ONE guess what you're getting for Christmas this year…
**UPDATE: My mom took some of the really hot Muscadatil Jelly up to Alabama during a visit last week and served it over fresh goat cheese with crackers — it was a HUGE hit. The whole family loved it…which is good because seriously, you're all getting jelly for Christmas…I'm not joking.