Football!
FOOTBALL!
FOOOOOOTBALL!
In case you haven't figured it out, there is one reason and one reason only that I'm excited for this weekend. It's not the extra day of rest (thanks labor unions) or the start of September (look for Halloween decorations soon) it's the beginning of the Most. Wonderful. Time. Of. The. Year.
My background with the Florida State Seminoles has already been established, but to sum it up in a length shorter than Steve Spurrier's NFL coaching career (ZING!) — I've been an FSU fan for all of my 27 years, including the five I spent attending school there and working for the Seminoles Athletic Department.
To prepare for the 2012 season, I've washed both of my jerseys (#16 and #11), made arrangements to have a beer tasting/football watching party with friends for the first game, painted my toenails a lovely shade of garnet, watched the 'Noles season preview show and made a beautiful wreath for my front door.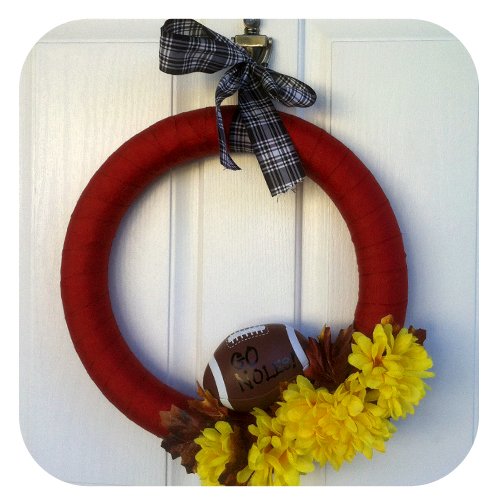 My total cost on this gorgeous wreath came in at just under $20 (80% of which was spent on the ribbon and wreath form, ugh — definitely shopping around for a better deal on both of those next time). The flowers, leaves and football all came from the Dollar Tree (woot!). I used glue and dressmaker's pins (the little silver ones with the flat ends, not the kind with the colorful balls on the tips) to tack on the decorations with mixed results. As often as the door is used, a few of the flowers have fallen off, so I think I probably need to break down and get a glue gun.
I added the black and white plaid ribbon to hang it mostly because I had it left over from another project, but also because it made the wreath a teeny bit more masculine.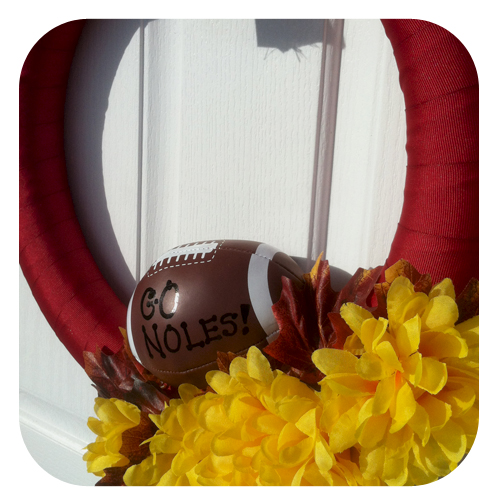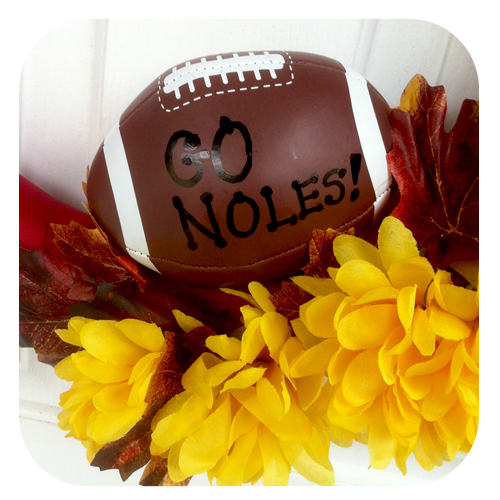 I love my new Seminoles wreath — I hope our football season turns out just as good! 🙂