Fact 1: Crafts are more fun when crafted with others.
Fact 2: Crafts are WAY more fun when crafted with kids.
So, after my balloon-and-trash bag ghost craft were such a Halloween hit with my friend's adorable girls, I started working up a Christmas craft for us to do before the holidays.
I turned to the best craft inspiration out there (Pinterest — obviously) and sifted through a number of good options before I came across the perfect activity — candy Christmas trees.
What could be better than combining treats and crafts into one?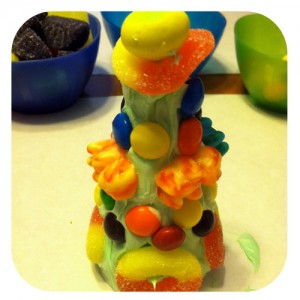 I have to say this was a really easy and really fun craft that the girls (and I) absolutely loved.
All you need are some sugar cones, frosting (tinted green with food coloring) and your choice of decorative candies (I used Skittles, M&Ms, gummy Lifesavers, gummy bears, Peachy-O's and gumdrops).
We separated the candies into different bowls and I covered a cone for each girl in heaps of icing. They carefully selected their favorite decorative candies (the Lifesavers were a HUGE hit) and stuck them to the icing on the tree.When the trees were done came the most fun part — devouring them!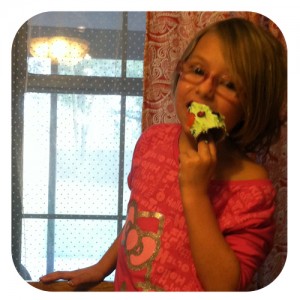 The best part about this craft is that it's easily adaptable to any holiday with sugar dough and cookie cutters. You could make heart cookies for Valentine's Day and give the kids an assortment of red candies to decorate with. Or for St. Patrick's day you could use clovers and green candies.
It was really blast (definitely put down some wax or parchment paper before though because icing and sticky candy residue will get everywhere!).
I enjoyed spending the afternoon with three of my favorite little ladies — and the oldest, Lily, paid me a high compliment when she rushed in off the school bus and said, "I loooove when you come over and do activities with us!"
I love it, too. 🙂