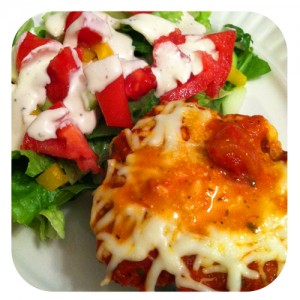 Good News: My new plan to eat right in 2013 is off to a splendid start.
Bad News: I'm craving Italian food like WHOA.
The last few nights I've gone to sleep thinking about lasagna, spaghetti, ravioli, and stuffed shells.
God, I used to make the *best* stuffed shells.
I'm willing to splurge for some cheese, but I just can't bring myself to fall off the carb wagon with a whole pile of pasta or (Heaven forbid) a breadstick (or six).
I went in search of a recipe that would satisfy my Italian craving without busting my new eating habits (notice the specific non-use of the word "diet" because as far as I'm concerned, that's a four-letter word).
I thought some sort of Italian stuffed peppers would be a good way to go, but I couldn't find a recipe that sounded good and satisfied my family's eating requirements (i.e. my dad's new anti-red meat stance which is KILLING me slowly).
So eventually I gave up on the Internet and decided to do my own thing with an adaptation of my old stuffed shells recipe.
It.
Was.
Fabulous.
Here's a close approximation of what I prepared along with my notes for what I'd do differently next time (and make no mistake, there will most definitely be a next time – I had the leftovers two days in a row for lunch, it was that delicious).
Italian Stuffed Peppers
Ingredients:
3 green peppers (you could use red if you'd prefer)
16 oz Ricotta Cheese (I used the low fat)
1 egg
1 package of Italian Chicken Sausage (you could use turkey sausage or ground beef instead)
Italian seasonings blend
8 oz. package of shredded mozzarella
16 oz. jar of Newman's Own Tomato Basil Sauce
Olive oil
Preparation:
Preheat the oven to 350º
Remove the sausages from their casings and dice (I made my pieces pretty small so I'd get a good mix with my cheese). Brown the sausage in a frying pan with a couple tablespoons of olive oil, set aside.
In a medium sized bowl, mix ricotta cheese with egg. Add seasoning to taste – I probably used about a tablespoon of dried Italian seasoning –and then blend in a cup and a half of your mozzarella. Add the browned sausage (let it cool a bit so it doesn't cook the egg) and mix everything well. This will be your stuffing.
Wash and cut the green peppers in half vertically, removing all the seeds and ribs.
Cover the bottom of a 6" x 9" casserole dish with your tomato basil sauce, then place your six halves face up. Fill with equal portions of your stuffing mixture, and then top the whole thing with your remaining sauce.
Put it in the oven for about 30 minutes, remove and top with the rest of your mozzarella, then put it back in until the cheese is melted (about 5 – 10 minutes).
What I will do differently next time:
I wish I'd had some fresh parsley and basil to use instead of the dried Italian seasoning – I will definitely have some on hand to use next time.
I should have mixed two cups of sauce with my stuffing and poured the rest into the dish so the peppers were mostly submerged to cook in the sauce (instead of pouring it over the top which I actually did about halfway through the cooking).
I would cover the whole thing with tinfoil so it really keeps the heat locked in and makes the peppers more cooked and tender (not that I really minded the crispiness, but there were some complaints from the family…I know, right?).