Mother Nature is a funny lady.
She knew I was sharing my prologue with you guys today and she decided to play a little joke on me.
See, the prologue of Killer Shine is a story-within-a-story, all about my fictional paradise (Crab Island, Florida) preparing for an impending hurricane.
What's funny about that is this: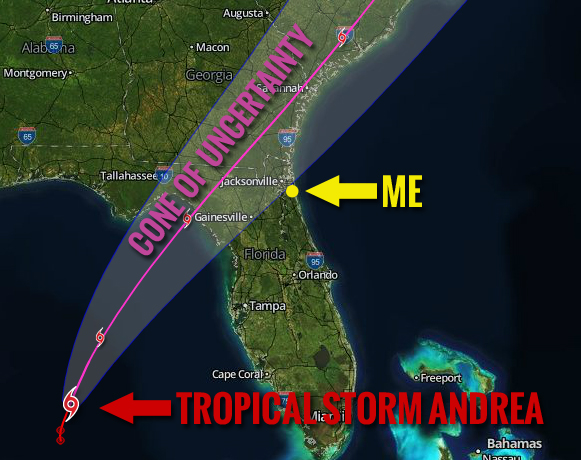 That is the current trajectory of the Atlantic's first named storm of the season.
And as you can see, I'm sitting at the very cusp of the dreaded Cone of Uncertainty.
(dun-dun-DUUUUUUUUUUUN)
Fortunately, it's a very weak storm that will (hopefully) just dump a crapton of rain on us and move along.
But it's ironic nonetheless, right?
Alas, the show must go on — and what a show it is!
I gave you a sneak peek at what's to come with the first section of the prologue back in April, but now I'm ready (and excited) to share the WHOLE thing.
It's quite wordy (6500 words — *thump* — the sound you just heard was my editor fainting) but I needed the space to properly introduce you to Crab Island.
Unlike my last novel, which was based here in my hometown of St. Augustine, I decided to dig into my imagination for the perfect slice of Florida paradise and Southern charm.
Thus, Crab Island was born.
And located way down at the southernmost tip of this little oasis, is a (slightly tacky) little place called The Pink Mermaid Motel.
Please allow my friend Tucker to introduce you to the Mermaid and its equally colorful proprietor, Bear Dawson:
Unlike the wide curve of Crab Island's northernmost end, the southern tip of its elongated wedge shape sliced into the Atlantic with a sharp point of white sand.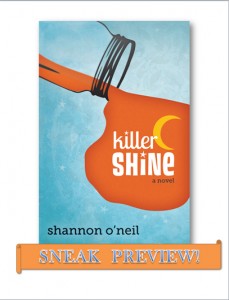 Tucked right into the apex of that point – miles from town (and all other signs of life) – The Pink Mermaid Motel mimicked the angles of the narrowing coastline with two stories of ten rooms each, stacked and folded into a V-shape pointing southward. All twenty doors faced the kidney-shaped pool at the center of the motel's asphalt parking lot.
Painted an appropriate shade of magenta and topped with a collection of bright teal shingles, the motel was considered an eyesore by some folks and an art installation by others, but it was a Crab Island landmark to all.
With a wide turn of the wheel, Tucker swung his cruiser under the old motel's arched carport and slipped out of the driver's seat. Sweat instantly began to drip in uncomfortable places beneath Tucker's uniform. He adjusted his heavy utility belt, and approached the motel's glistening turquoise pool.
Stepping through the waist-high gate and onto the blistered yellow pool deck, Tucker was glad to see the Mermaid's residents and staff were preparing for the coming storm. An assortment of patio furniture was submerged in the pool, where the hurricane's winds wouldn't be able to turn the tables and chairs into flying projectiles.
Tucker crossed the open deck and cautiously approached a fire-wielding figure in the far corner. Clad in sneakers, bib overalls, and a welding helmet, Bear looked like anything but a fifty-seven year-old grandmother. Tucker watched (at a safe distance) as she used her kitchen torch to meld colorful aluminum half-circles to her latest creation. After completing a full row of new additions, Bear took a step back and lifted her helmet visor to evaluate her work.
Are you ready to read more?
Would you like to find out who prepared for the storm with canned yams and Kool-Aid?
Do you want to slip into The Crispy Pig for pancakes, bacon, and roller-skating octogenarians?
Is your heart prepared to meet the book's true hero — a freckle-faced six year-old named Milo Ryan?
Well, I'm ready to share it with you!
There's just one, teeny, tiny problem.
I don't *just* want to share this prologue with you.
I want to share Chapter 1 (later this month) and a couple [exclusive] short stories about the characters (next month), and some really exciting partners who are going to play a big role in this book.
So, what I'd love for you to do is to take a second and join my email list so you won't miss any of these awesome milestones in (what will be) Killer Shine history.
When you join the list, you'll get a link to read the full prologue (or download a PDF version) plus you'll hear from me periodically (never more than once a week, I promise) with some delicious recipes, DIY projects, and (of course) regular updates on Killer Shine.
Sounds like a good deal, right?
So just add your email address and you'll punch your ticket for Crab Island (and arrive, like Jac Dawson does, just ahead of the storm).
Now I'm off to find my candles and stock up on some non-perishable foods (like Oreos and Cheetos) before Mother Nature has the last laugh…
P.S. – If you're already on my mailing list and missed the email a few weeks ago with the prologue link, shoot me an email and I will get it to you!