I'm ready to get my 'Merica on — are you?
This is one of my FAVORITE weeks of the year (or at least of the summer).
My sleepy little beach town is buzzing with activity — I was at the St. Augustine Lighthouse today and despite the overcast skies, the gift shop was packed with folks ready to explore the tower and museum. My heart swelled with pride.
But let's be honest — 4th of July is really about one thing.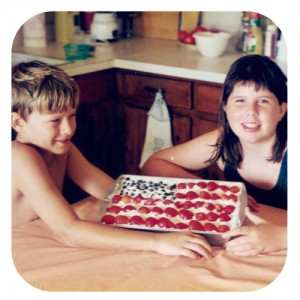 Nope, it's not fireworks.
Nope, not the beach.
Nope, not even America.
It's about FOOD.
That's what ALL of our holidays are about, right?
I mean, if we're really being honest, Independence Day is just the summer version of Thanksgiving. Replace the turkey with a pile of barbecue (burgers, dogs, ribs, chicken — whatever tickles your fancy), replace the cranberry sauce with watermelon, and replace the pumpkin pie with a flag cake and *Tada!* you have a 4th of July feast!
Traditionally, my family spends the 4th in Alabama (another way in which this holiday is like the July edition of Turkey Day for me). For most of my younger years, we all gathered at the family's cabin on Lake Martin. We crammed ourselves into the three-room house (to be clear — that's not three BEDroom that's just three ROOM rooms — we're talking serious rustic-ness my friends).
We swam all day, barbecued all night, and left the place a week later totally exhausted and happier than you could ever imagine.
Unfortunately, the cabin left the family in 2003 and was eventually demolished to make way for someone's lakeside McMansion. I try not to think about it often because it makes me horribly sad.
Anyhow, this year we're staying in town and hanging poolside with some friends for a good ol' fashioned barbecue. We always (ALWAYS) have too much food, but no one complains because the next best thing to 4th of July is 4th of July leftovers on the 5th of July.
I'm the designated provider of dessert and this year I've decided to stray from my traditional flag cake and get a little more adventurous…
1. Burger Cupcakes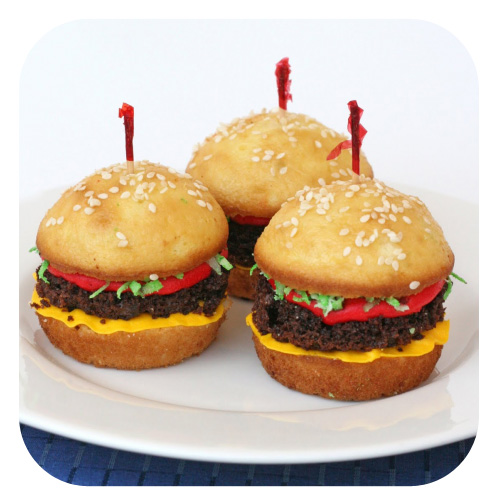 I saw these burger cupcakes on Pinterest a while back and knew I had to attempt it, even if it turns out to be a disaster. A chocolate cupcake smushed between the top and bottom half of a a vanilla cupcake with green coconut for lettuce and icing for ketchup and mustard. Easy peasy right?
[Note: At the time of this posting, I have not yet made them, but follow me on Twitter and I'll post a picture of how mine turn out (good or bad or really, really ugly).]
2. Red, white & blue Sangria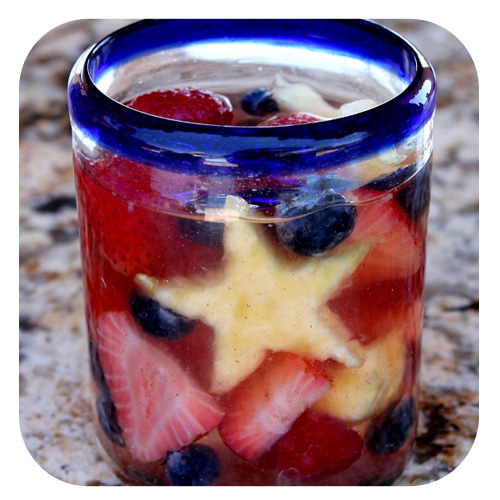 Let me tell you something about myself — I flipping LOVE sangria.
I'm not a big wine drinker and I'm so-so about beer, but fruity sangria is the juice of my soul.
When I saw this recipe on Pinterest I knew I *must* make it! MUST.
Also, I thought maybe I could share it at my friends' barbecue…maybe. I mean, if there's any left.
I'm not sure if I'm going to follow the recipe with the berry-flavored vodka, I'm thinking I might keep it simple with some nice, sweet moscato and the fruits — that should be sweet enough, but still light.
3. Baked Sweet Potato & Thyme Fries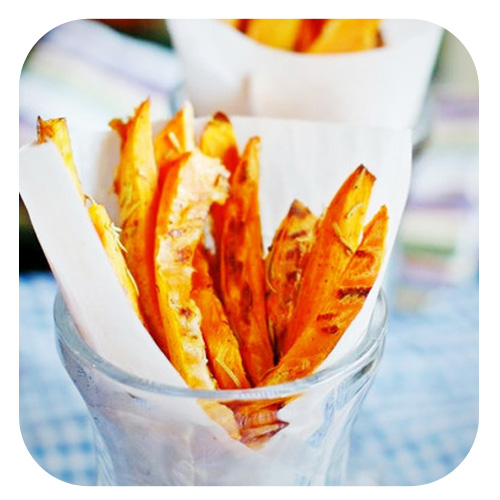 This year, mix it up at the barbecue by offering these savory (and more healthy) fries.
I love a good white potato fry as much as the next girl, but you can't beat the flavor of a crispy sweet potato.
And don't even THINK about going with the frozen kind. Puh-leeze. It's not that hard to slice up some potatoes and throw them in the oven — you'll get a MUCH better flavor without all those additives.
This recipe with the added thyme seasoning is sensational (it's especially good served with pulled pork and barbecue chicken, but goes well with the ol' hot dogs and hamburgers set, too).
4. Carolina Pulled Pork (In the Crock Pot)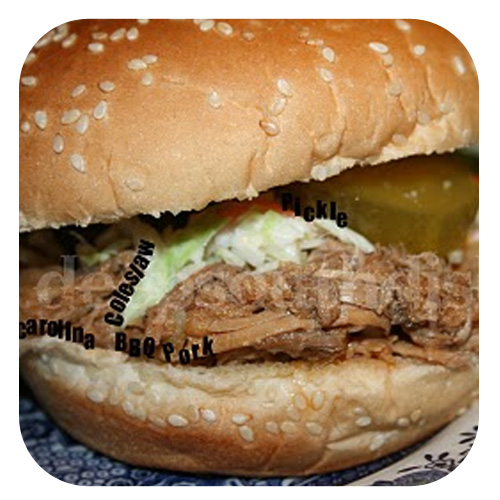 In the world of pulled pork sandwiches, there is Carolina-style pulled pork…and then there's everyone else.
My dad makes the most mouth-watering pulled pork in the United States of America, period. Unfortunately, I've yet to share the recipe with you guys (I will soon though, I promise!).
In leiu of that, this recipe for Carolina pork in the crock pot sounds delicious as well. I also appreciate that the good folks at Deep South Dish know the first (and only) rule of Carolina pulled pork sandwiches: You MUST top it with dill pickles.
Quite frankly, if you're eating Carolina pulled pork without dill pickles, you are doing it WRONG.
The coleslaw I'll leave more to individual tastes — it's not my thing, but I understand the appeal.
5. 4th of July Jell-O Parfaits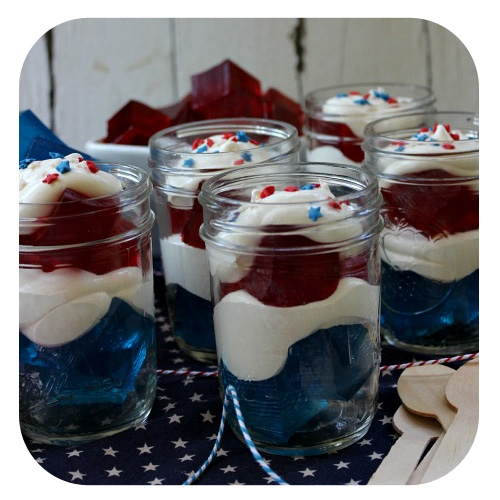 If the burger cupcakes go horribly wrong (which is very possible, let's be honest) these red, white, and blue Jell-O parfaits from Hoosier Homemade are my back-up plan.
Fun, easy, patriotic, refreshing, and delicious — what could be better?
These would be especially perfect for the kiddos who like to help in the kitchen!
Well, I hope you guys all enjoy your summer Thanksgiving!
Stay cool, stay safe, and stay full. 🙂