History is written in the architecture all over St. Augustine. From coquina walkways to gilded arches, each structure carries with it not only a unique design, but a unique story.
High on the dunes of Crescent Beach, just a few hundred yards north of State Road 206, is a rambling white cottage with a legacy scripted on its walls. Stories of iconic literary heroes were written in that house, right up until the ink dried on the final chapter of its owner's life.
Marjorie Kinnan Rawlings is best known for her residence in Cross Creek, Florida, near Gainesville, a location that inspired many of her best selling books. But in 1939, on the heels of winning a Pulitzer Prize for The Yearling, Rawlings used some of the $30,000 MGM awarded her for the book's movie rights to purchase a beach bungalow that still stands today at 6600 Broward Street in Crescent Beach.
Rawlings first rented the oceanfront property in the summer of 1939 from its original owner, Ralph Poole, a founding partner of Marineland. By September, Rawlings was so smitten with the peaceful oasis and its sweeping views of both the Intracoastal and the Atlantic, that she purchased the property, sandpapered Poole's name off the mailbox, and painted a droopy, black inked "Rawlings" in its place.
In The Private Marjorie, a collection of Rawlings' letters edited by Roger Tarr, the world famous author utilized her wit and descriptive acumen to narrate her life at the beach. Through these letters, she painted literary portraits of rainstorms stealing in from the west over the river, nightly strolls with her trusty dog, Moe, and fishing adventures like casting for pompano on the beach and gigging for flounder near the lighthouse.
After purchasing the cottage, Rawlings split her time between her new home and the orange groves of Cross Creek that first brought her to Florida from New York in 1928. She slid easily into St. Augustine's social and political scene. In some of her letters during those first few years, Rawlings chronicles heated discussions among locals about turning Crescent Beach into a national park and frequent mechanical troubles with the Bridge of Lions.
At the same time Rawlings was establishing her place in the St. Augustine community, she was also courting a new relationship with hotelier Norton S. Baskin. Divorced from her first husband and college sweetheart, Charles, Rawlings found a more tenable suitor in Baskin, a gregarious Southerner who charmed the Washington, D.C.-native by respecting her independence.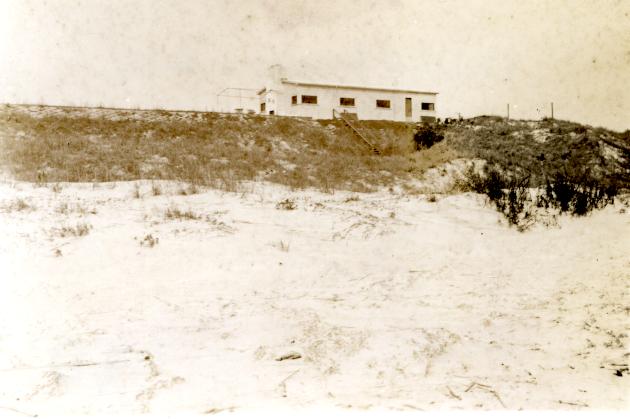 On October 27, 1941, Rawlings and Baskin wed at the St. Johns County Courthouse flanked by witnesses Verle and Edith Pope, two St. Augustine icons of that era. Verle, known as "The Lion of the St. Johns" served in the Florida legislature for 24 years. His wife, Edith, was a famous writer in her own right who penned her best-seller Colcorton in 1944.
The Popes weren't the only notable St. Augustine residents to befriend Rawlings and Baskin. W.I. Drysdale, co-owner of the Alligator Farm, and his wife Evelyn were frequent dinner guests and bridge partners at the beach cottage, as were Fred and Jean Francis.
A few other names more familiar to a national audience also dusted the sand off their feet at the threshold of the Rawlings home. Welsh writer Dylan Thomas, poet Robert Frost, brothers N.C. and Andrew Wyeth, presidential candidate Wendell Wilkie, African-American author Zora Neale Hurston, Director of the Federal Reserve Owen D. Young, and a bearded fellow named Ernest Hemingway all visited Rawlings' Crescent Beach dwelling at one time or another.
There is a consensus among storytellers that Hemingway and Rawlings' first meeting took place at a bar, though which bar remains unknown As the story goes, Rawlings spotted Hemingway and sent a note to him that read simply, "Are you Hemingway?" to which he replied, "Only if you're Rawlings."
It's possible that this exchange might have taken place at Summer Haven, a resort between Crescent Beach and Marineland that saw a boom of activity in the late 1930s. Among the popular Summer Haven destinations known to attract the likes of Rawlings, Frost, Hemingway, and Ilya Tolstoy (grandson of Leo Tolstoy and another founding partner of Marineland) were the Mellon family's Cove Tavern and the rustic cabin of African-American oysterman Gene Johnson. Rawlings wrote about Johnson's famous oyster roasts in her 1942 cookbook, Cross Creek Cookery.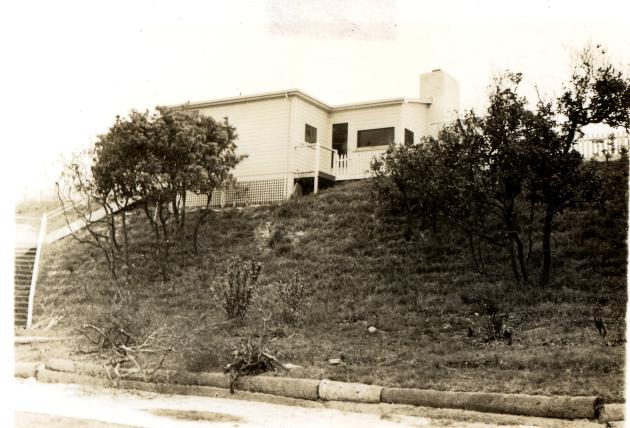 No matter where Rawlings and Hemingway met, what formed after was a close bond between the two literary giants that would last the rest of Rawlings' life. Hemingway and his third wife, journalist Martha Gellhorn, stayed with Rawlings at the Crescent Beach cottage in 1940 after running into each other at Marineland. Rawlings came to admire Gellhorn and even helped her find a place to rent in Crescent Beach years later, after Gellhorn and Hemingway divorced.
Though she often lamented that the work of the "bearded genius" was so good it made her doubt her own talents, Rawlings was also not afraid to critique some of Hemingway's less appealing characteristics. In a July 1944 letter to Baskin, who was serving in Burma with the American Field Service during World War II, Rawlings enclosed a newspaper clipping from Hemingway, who was reporting on the war from London, with the note, "Hemingway at last looks as he has always longed to — distinguished. If he can get his squeaky voice down a couple of octaves and stop scratching his stomach, he will be most impressive."
Hurston was another author with whom Rawlings developed a dichotomous relationship during her time in St. Augustine. The two became acquainted after Rawlings gave a guest lecture to Hurston's class at St. Augustine's all-black Florida Normal and Industrial College. Rawlings was taken with the young author of Their Eyes Were Watching God, and invited her to share tea at Castle Warden, Baskin's premiere hotel (present day home to Ripley's Believe it or Not!). But in Rawlings' excitement, she failed to consider that Castle Warden was a whites-only establishment.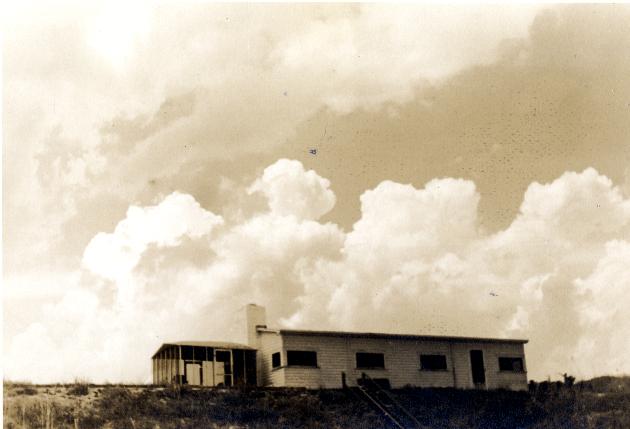 Despite the racially charged hurdles of the times, Hurston and Rawlings forged a friendship that Rawlings herself acknowledged as a turning point in her own prejudices. After Hurston visited Cross Creek in 1943, Rawlings noted in a letter to Baskin, "From spending that time with Zora…who is an artist, who is big and wonderful, I have advanced a long way and she helped me in a way that she never thought of."
Outside of visits with powerful friends on the local and national scene, life was not always so glamorous at the Crescent Beach cottage. During World War II, while Baskin was serving overseas, Rawlings volunteered as a plane and submarine spotter for the U.S. Coast Guard. In her almost daily letters to Baskin, she kept him up to date on the latest news from home, including the devastating fire at Castle Warden in April 1944 that took the life of the couple's dear friend, Ruth Pickering.
After Baskin returned from the war, he sold Castle Warden and took over the management of Marineland's restaurants. Rawlings bought a third home, this time in Van Hornesville, New York, where she stayed and worked on her final novel, The Sojourner, while Baskin supervised a $7,000 addition to the cottage.
In her letters to Baskin from the farm house in New York, Rawlings shared her input on the renovations, noting that she preferred using the property's natural coquina for landscaping to "those dreadful cement blocks" and that she was leaning toward a blue-green paint color in her new studio over the eggplant shade in the living room.
While she continued to travel between the three properties over the last few years of her life, Rawlings spent the majority of her days at the cottage where she could be closest to Baskin. It was there that she suffered a stroke on December 13, 1953. With Baskin at her side, she passed the next day at Flagler Hospital.
The home Marjorie Kinnan Rawlings lived in for nearly 14 years still stands, bearing on its sturdy trusses the legacy of a literary icon. A fan of Rawlings' work saved the house from the wrecking ball in 1998, and now it remains in private ownership on two and a half acres of oceanfront land. Though it may be valued at well over two million dollars today, the value it carries runs much deeper in the stories kept within its walls.
This article was originally written for First Coast Magazine.