Big Sky Country: Flathead Lake
Do you know what I think about when someone mentions Montana?
Legends of the Fall
If you have somehow never seen this movie, I **implore** you to stop reading this blog post and go find it on a streaming service right this second. If you have seen it, then you're already picturing Brad Pitt with long blond hair and a gruff beard bathing in a hot spring and for that, you. are. so. very. welcome.
(Watch this compilation video on YouTube if you just need a quick fix.)
Aside from Pitt's character, Tristan Ludlow, being one of the sexiest men in the history of movies, it really is an excellent film. Based on a short story by Jim Harrison, Legends of the Fall is about a close knit family living in rural Montana during World War I. It won an Oscar for Best Cinematography in large part because of the way in which they were able to capture the gorgeous wilderness of Montana.
(And probably the gorgeous specimen that was Brad Pitt circa 1995…).
Sadly, my road trip from Idaho to Montana did not yield any sightings of a wild, brawny Tristan-type, but the Big Sky vistas were even better than promised.
"Was that a Bear?" and other thoughts that keep you awake in a tent
After starting our trip in Idaho, my friend Olivia and I passed into Montana on a late summer afternoon bound for Glacier National Park. Up until that point, our lodging accommodations for the trip had been graciously provided by members of Olivia's family who were willing to put us up for a night or two. But as we transitioned into Montana, we were suddenly on our own on the wild frontier.
For our first night, we had reservations for a campsite at Flathead Lake State Park, about 45 minutes south of Glacier. Our leisurely drive over from Idaho put us on a later arrival to the park than originally planned. Thankfully, summer days in that part of the country stretch long, and the sun still silhouettes the mountain peaks until nine or ten o'clock.
We rolled up to our little patch of earth still exhausted from two long days of driving, rafting, and eating Taco Johns. Still, we slogged through the set-up of our little tent and then grabbed our swimsuits and towels to head down to the lake for a quick dip.
Listen y'all, I don't want to brag or anything, but I've seen a lot of lakes in my time. I'm talking about some pretty famous ones like Lake Tahoe, Lake Michigan, Lake Okeechobee, Lake Yellowstone, and the Great Salt Lake. I've also spent some time on lakes that are very near and dear to my heart like Lake Martin, Lake Tuscaloosa, and Lake Chatuge.
So, given my vast knowledge and experience of lakes, I think I have the authority to say that Flathead Lake in Montana is easily a Top 5 Lake. At least in the US, and maybe even the world (admittedly my global lake experience is a little lacking…).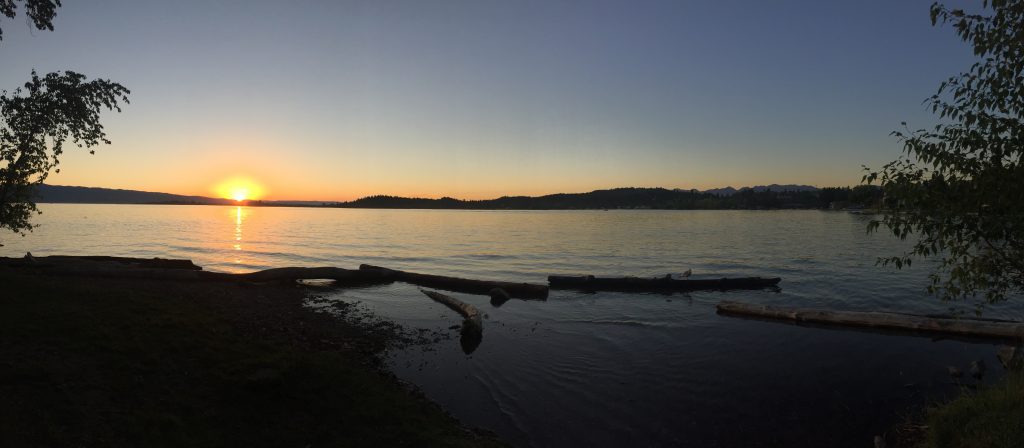 Surrounded by a crown of peaks from the Mission Mountains in the east to the Salish Mountains in the west, Flathead is the largest freshwater lake by surface area east of the Missouri River. While there are a few massive mansions that dot the lakeshore, there are also a number of vineyards and orchards that grow cherries, apples, plums, and pears. Known as one of the cleanest lakes in the populated world, the glassy waters are so clear you could count each of the multi-hued river rocks that make up the lake bottom.
After a bit of swimming and a lot of floating, the air grew chilly and we made for the shoreline. We ransacked the cooler for provisions, made a couple of sandwiches, and settled onto a picnic table to watch one of the best sunsets my eyeballs have ever had the pleasure to witness. A bird lit on a piece of driftwood at the shoreline, outstretching his wings in silhouette to the fading sun. I took out my phone in a futile attempt to snap a few pictures that could not possibly do the slightest bit of justice to the showcase of nature that was taking place before me.
The night only could've been better with a campfire, but sadly there was a statewide burn ban due to the high danger of wildfires. This would become a bigger problem later in our trip.
Only you can prevent devastating wildfires, so take that s**t seriously
After a mostly restless night in the tent for me (what can I say, sleeping on the ground and being terrified of bears is just not the right recipe for a good night's sleep), we left Flathead Lake the next morning to explore Glacier National Park.
There was so much to our two day adventure in Glacier (including, but not limited to, me nearly driving us off a cliff to our untimely death) that I had to put it all in a separate blog post, which you can read here.
When we finally left Glacier with our wilderness-loving hearts filled to the brim, we headed off to the last stop on our trip: Missoula, Montana. Some other friends of mine from St. Augustine, Casey and Kurt, had moved out to Missoula a year earlier so that Casey could pursue her MFA in sculpture at the University of Montana. We stopped in to spend the night with them at their gorgeous house way up on the side of Lolo Mountain.
While we enjoyed a pleasant evening back in civilization and grabbed some beers and eats at the Lolo Peak Brewpub, it was hard to ignore the acrid smell of smoke lingering in the air all over town. Wildfires are not at all uncommon out west, and one in particular was gaining ground just on the other side of Lolo Mountain. Kurt and Casey assured us it was nothing to worry about, but they also had a couple boxes with important documents and family heirlooms packed and sitting by the front door, ready to go if they had to evacuate.
(A week after we left, they did wind up having to evacuate, but thankfully the firefighters protected their house and they were able to return safely!)
In the morning, before we started the trek back to Idaho, Olivia and I decided we had to do one last thing that is a road trip staple for both of us: Visit a museum.
Missoula has a few museums of interest, but we chose a pair that went hand in hand: The National Museum of Forest Service History and the Smokejumpers Visitor Center. Both located at the Missoula International Airport, these two tiny museums pack a powerful punch on a subject that I knew very little about. I especially enjoyed the Smokejumpers exhibits on the history and science behind fighting wildfires.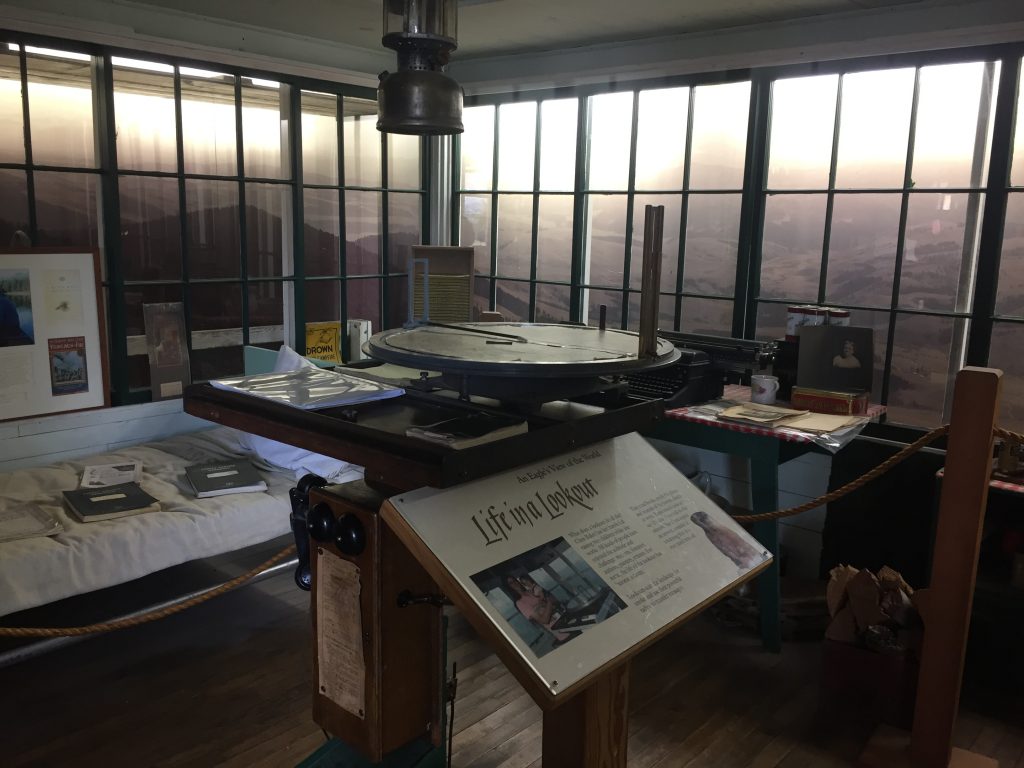 "The ultimate camping trip was the Lewis and Clark expedition." – Dave Barry
After our museum visits, Olivia and I headed back to Idaho via Highway 12, also known as the Lewis & Clark Highway. This scenic road climbs over Lolo Pass and then follows the Crooked Fork River back toward Grangeville. Upon the recommendation of someone we met at the brewery the night before, we stopped at a tiny general store in an otherwise empty stretch of highway to pick up what were allegedly the best milkshakes in the state.

Let me tell you…they lived up to the hype.
I spent one more day in Idaho, resting up for my return trip with a lazy afternoon on the shores of Payette Lake in McCall. There was ice cream, an ice skating rink (only the second one I'd ever seen) and ice cold lake water. It was the perfect end to my adventure.
If you ever get the chance to visit Idaho or Montana, and especially Glacier National Park, trust me when I tell you it's worth the trip!