Author's incredibly important caveat: This is bound to change a million times (just like it's already changed from its previous title, Elect Charley Dawson) so consider this a very, very rough first draft. Also, if you want to save the suspense for the full novel, don't read through to the end because this is a start-to-finish outline!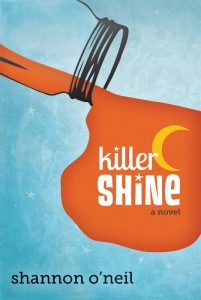 Charlotte "Charley" Dawson is the youngest daughter of Jacob "Jake" and Hannah "Bear" Dawson. She is a champion swimmer who earned an athletic scholarship to Florida State University where she met her first love, a football player named Riley Tatum. They were friends for four years before taking their relationship to the next level a month before graduation. Charley was ecstatic – until she found out that she was pregnant and Riley was planning to propose to his on-again, off-again girlfriend, Brooke.
Charley moved back home to Ardvark, desperately in need of her family's support to raise her son Milo. Riley followed her, wanting to be close to their son, and unfortunately Brooke came along, too.
Both Charley and Riley work for the athletic department of Ardvark College. Riley is an assistant coach (under Charley's daddy, Jake) for the football team, Charley is the sports information director. She and Milo live in the boat house on her parents' property where several members of her family reside as well.
The downturn in the economy hit Ardvark hard. Charley starts to hear a lot of familiar complaints from business owners in town – profits are on the downslide, the town is failing. The college is coming down with it and Charley, her dad and Riley could all lose their jobs.
Worse, Ardvark has developed a serious moonshine problem.
Just when it seems like things couldn't get worse, Ardvark's longtime mayor, Crosby Croyle, has a heart attack and kicks it. At his wake at the town's favorite restaurant, the Crispy Pig, Ardvark's nefarious volunteer sheriff Robert E. Lee begins his campaign to take over as mayor.
The whole town is scared to run against Bobby Lee (because he won the lottery a few years earlier and damn near owns the city). But that changes when a night out with friends yields a serious hangover for Charley – as well as a drunken commitment she apparently made to run against Bobby.
Charley's oldest brother Ash is the only person who cautions her against running for office, but Charley's mama and the rest of the family are excited, so she decides to go ahead with it.
Especially excited is Charley's brother Skeeter who lives on a sailboat in the middle of Lake Dixie and is a recovering alcoholic. He tried to kill himself a few months earlier and it was Charley and Ardvark's only lawyer, Tucker Kowaliga, who had to save him. Anything that can give Skeeter a sense of purpose and direction seems like a winner to Charley, so she plunges ahead with the election plans.
The race heats up quickly, especially when one of Charley's favorite student-athletes at Ardvark U turns up dead in his dorm room. The promising young running back is found with a jar of moonshine at his bedside which later tests positive for bleach, apparently used to poison the young athlete.
Bobby Lee immediately points the finger at Skeeter and the rest of the townsfolk are quick to jump on that bandwagon. The problems with the 'shine seemed to start around the time he returned to town. Bobby insinuates that Skeeter and his girlfriend, a local bartender named Willow, are making and distributing the deadly 'shine.
Tucker, Bobby's oldest son (though he's loathe to admit it) tells Charley that he knows his father is behind the moonshine and he's bound to prove it. Tucker has a deep allegiance to Charley's family because they took him in when he was fifteen and couldn't stand to be around his father, stepmother and half-brothers anymore. He and Skeeter have been best friends since they were kids and he might have just a little bit of a crush on Charley.
On the 4th of July, peak of the summer election season, Charley is about to give her first major speech to the entire town's population before the fireworks when Skeeter realizes that his sailboat is drifting from its usual spot anchored in the middle of the lake, headed right toward Charley's boathouse.
The whole town watches as the sailboat collides with the boathouse, setting off an explosion. The family rides out to their property in a hurry to find the boathouse a total loss. County fire investigators determine that the cause of the blast was a case of moonshine stored in the hull of the boat. Skeeter is hauled off to jail.
Charley is now certain that Bobby Lee set her brother up. With the help of Tucker, Matt and a few close friends, Charley realizes the only way to get Skeeter out of jail and win the election is to prove that Bobby Lee is the one behind the moonshine.
As Charley goes after Bobby even harder, Bobby comes back at her with more. He gets a warrant to search Charley's family property, the place is swarmed with cops who tear up the houses of Charley's parents, aunts and uncles to no avail.
A few days later, Charley is returning out to the family property after picking up Milo from Riley's when a car runs her off the road and into a ditch. She and Milo are okay, but things are getting too close for comfort.
Still, Charley and Tucker forge ahead in trying to pin the crime on Bobby. They get a break when one of Ardvark's many colorful characters, a loner named Happy who wanders the town from one end to the other every day tells them that he cut through Bobby Lee's property once and came across a contraption. He draws what he remembers on paper and Charley and Tucker recognize it immediately, it's a moonshine still.
In the dark of night, Charley, Tucker and Happy row across the lake to Bobby Lee's property. They can smell the corn in the air right away and know that Bobby is brewing up a new batch of hash. Happy leads them to the spot where he saw Bobby's still and the foursome finds Bobby in the midst of a disagreement with another man.
Only when the man pulls out a gun and turns to face Bobby in the moonlight do they realize that it's Ash, Charley & Skeeter's oldest brother. He has been in cahoots with Bobby to produce the moonshine (Ash is a scientist at the college so his know-how helped Bobby create a better, faster still). But now things have gone too far and Ash wants Bobby to leave his family alone – he didn't know about Bobby sending his boys to frame Skeeter and blow up the boathouse.
The two men get in an altercation, Tucker rushes in to help Ash and his shotgun goes off. The explosion of the still sends Charley, Happy and Matt flying backwards.
While everyone survives the still explosion, it turns out to be the best thing that could have happened. The incident brought in the county police, who uncovered the real truth behind the moonshine scheme. Charley won the election in a landslide and then realized the real task had only just begun – now she had to figure out a way to save the town!