Few things in life are more beautiful than true, Southern, harmonious melodies.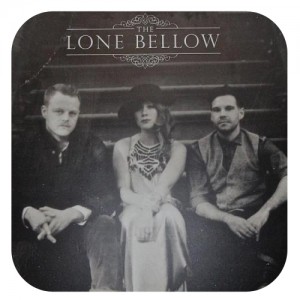 Last February, I dragged my very pregnant best friend along with me to see The Civil Wars, prepared to be moved beyond words by the melodic charms of Joy Williams and John Paul White.
We were not disappointed, but the duo's incredible performance for a captivated crowd of 900 was nearly overshadowed by their opening act.
At the time, the trio of Georgia-by-way-of-Brooklyn musicians that preceded The Civil Wars onstage were going by Zach Williams & The Bellow. I'd never heard of them until that night, but I haven't been able to forget them since.
I downloaded Williams' solo album (good in its own right, but not nearly packing the power of the group's harmonies) but in the absence of a group recording I had to settle for repeated viewings of their handful of YouTube performances (I seriously think I'm responsible for about half of the views for Tree I'll Grow).
I stalked the band on Facebook – through two name changes and a number of opportunities gained and lost – and was finally (FINALLY) rewarded for my (im)patience today when their first album was released (a week earlier than previously scheduled).
I'm telling you – commanding you, right now – you must listen to this band.
If you are any fan of country, folk, gospel, blues, soul or just incredibly, wonderfully, beautifully written music, you will fall in love with The Lone Bellow.
Williams has a vocal range like few men I've ever heard (this was noted by John Paul White at The Civil Wars show, by the way, so it's not just my humble and possibly musically uneducated opinion) which, combined with his bandmates' harmonies, is smooth, warm and intoxicating — it's like a Hot Toddy for the ears.
But even beyond their sound, the lyrics professed by this group (and make no mistake, the emotion and power put into every song is nothing short of a profession) are the very essence of what makes this brand of music the perfect pairing for a Southern melody.
As a writer, the words of a short, but sweet story told in every country or folk song is what makes me swoon for this genre.
(Sidenote: Is it really just a genre or more of a cultural art piece? Oops, I just hipstered all over myself…).
Take for example, the words from Two Sides of Lonely (go watch the AMAZING video right now — have tissues nearby):
I had one chance to tell you I was worth it
As we stood between the graves in our town
And the dead folks sang their forgotten songs
As I watched your eyes stare at the ground
On the one hand, you're hoping I'm lying
On the other you hope I'm a fool
And the wind it blew all the leaves around you
As you watched all our dreamin' come true
Two sides of lonely
One is heart, one is duty
Two sides of lonely
One's in the grave
And the other should be
We were alone together in Brooklyn
And the midnight snow fell in the park
And the wind it crashed through the trees above us
As we watched the frost freeze our dead hearts
Two sides of lonely
One is heart, one is duty
Two sides of lonely
One's in the grave
And the other should be
And the dead folks they hum
All the songs that you sung
In the grave you dug yourself when we were young
And the dead folks they sway
Back and forth to the drum
And the two sides of lonely
Lay to rest in their arms
You rock back and forth as the seasons
Change just like your mind in the dark
And the nights you sleep, you dream of me
And the love you let die
This song could have a hundred meanings, open to interpretation by just how black your heart may be at the moment you hear its haunting melody. But every one of them is a story told through carefully painted words.
That's not even my favorite jam on the record – that honor goes to Tree I'll Grow which features my two favorite love song lyrics of all time: "I'll never leave, I'll always stay/I swear on all that I keep safe" and "A tree I'll grow to let you know/My love is older than my soul."
Freaking beautiful stuff, people. Do you get this?
But then the song picks up in the bridge, so it's not even this sappy slow love song it's really this building ballad that turns into a belted anthem. Williams even head-bangs a bit in the live performance:
Even if you have no heart and can't appreciate those two slow-ish folky numbers, this album has a little something for everybody with two more traditional country tunes (You Don't Love Me Like You Used To [a Conway Twitty/Tammy Winette duet if I've ever heard one] and You Never Need Nobody); a catchy pop-ish jam (The One You Should've Let Go) and finally finishes on a real surprise note with a velvety smooth jazz song that sounds like it could be a Billie Holliday cover (Button).
Alright, fine.
I've gushed more than enough about how much I love The Lone Bellow, so now I leave you to go straight to iTunes and download their album (don't even preview it, come on, that's a waste of your data plan – I've clearly given you enough evidence to spend the $10 without a second thought).
Seriously though, buy it.
Listen to it on repeat for days.
See them in concert if they come within a 100 mile radius of you.
Do it.