As a kid, nothing in life was better than going to the fair every spring and biting into a pipping hot corn dog.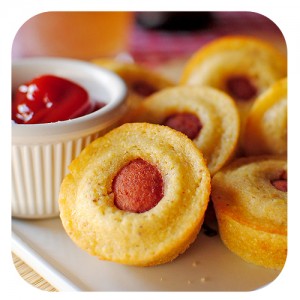 Unfortunately, corn dogs are on the not-so-healthy list (What? Cornbread wrapped around a questionable, encased meat substance is not on the list of foods I should eat?).
But I feel slightly better about making these baked mini corn dog muffins — so much so that they've now become my go-to football food.
I would recommend them for your Super Bowl Party, however we won't be having them at my Super Bowl Party because I'm still working on eating better and something as delicious as that would derail me for good.
We're going for the all-meat and veggies party featuring crockpot pulled pork (with Mr. Stubbs Carolina BBQ sauce — my personal fave) and homemade Memphis BBQ baked wings.
So rest assured, I will not go hungry.
As for whom I'm rooting for — it's a tough a call. I would like to support my former 'Nole Anquan Boldin and cheer for the Ravens (I also find Jim to be the slightly more attractive Harbaugh brother, though it's a very close call). However, I (unlike a lot of people) have not forgotten about Ray Lewis' involvement in a still-unsolved double-murder in 2000.
Therefore, I cannot find it in my heart to root for the Ravens.
Go 49er's and hooray for one last day with football food!
(Also, Aaron Rodgers if you need anyone to watch the game with…or provide a distraction from the game…I'm your gal.)