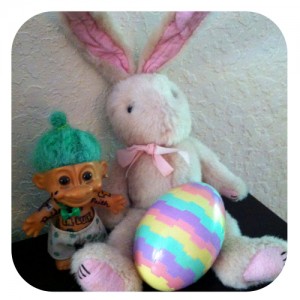 Easter is so early this year, it's tripping me out.
Usually, I wait until I've recovered from St. Patrick's Day to switch out my green decor for the pastel vibes of Easter, but this year I had to put them up simultaneously — leaving my leprechauns and bunnies dancing side-by-side.
Still, despite Easter's early appearance this year, I'm looking forward to spending the holiday with my family.
It will be a little unusual because my brother is going to be on his post-graduation trip to Australia (lucky dog!) over the holiday, so things will be quieter than we are accustomed to, but fun and relaxed as always.
We're preparing a ham and veggie feast for our Easter meal — what will you and yours indulge in for this great spring family gathering?
I'm trying out some new decor ideas for the Easter table that I'm absolutely in love with.
First I used a black-and-white flower patterned curtain panel I had laying around for a light tablecloth, and then added some pops of color with a bright blue runner (actually another tablecloth folded in thirds) and some yellow wicker place mat rounds.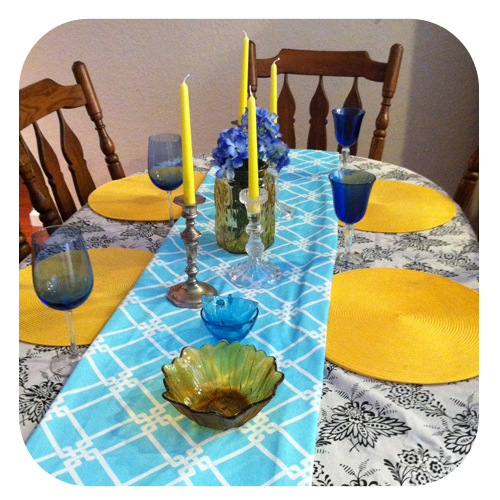 I was going to add more colors, but really liked the blue-and-yellow combo (maybe it's an ode to my alma matter's colors since I'm facing down my 10th high school reunion this year — YIKES!), so I decided to expand with shades of those two hues.
The yellow vase at the center (please ignore the dreadful flowers — I had some fresh white hibiscus but was lazy and didn't get around to taking pictures until they died and I've yet to replace them so these fake ones will have to do) is a traditional 70's style glass jar with a lid. I ditched the top and turned it into a vase because I love the color and the scrollwork pattern (this one's actually for sale through my Etsy store, Sage & Sadie if you're interested!).
These gorgeous cobalt wine glasses (which are solid, let me tell you — they are heavy!) were a thrift store find for a buck each and I paired them with similar style glasses from the Dollar Tree (also, obviously, a dollar).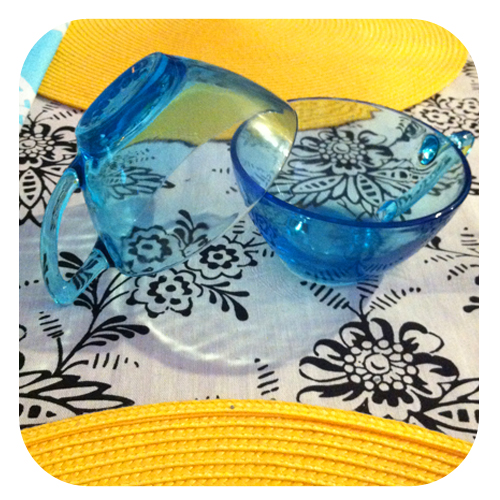 I haven't figured out what to do with these blue teacups yet (also a thrift store find) but I'm OBSESSED with them (they were supposed to go in the Sage & Sadie store, too, but I love them too much to let them go — in fact I've been scoping out their long-lost siblings on Etsy and am seriously contemplating putting together a full set) .
Anyway, I'm thinking about using them to serve up my tasty homemade sweet pickles and some other condiment (gravy? fresh cranberries?) or possibly some fun pastel dinner mints.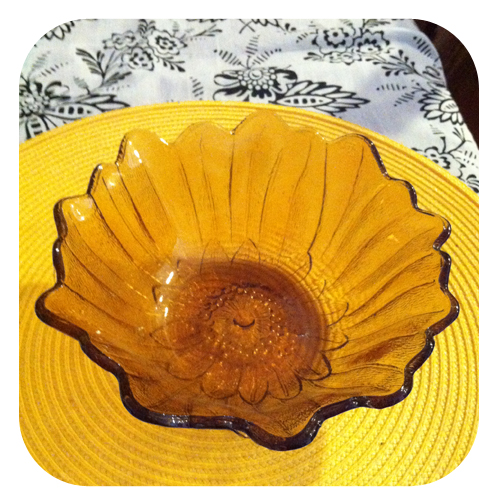 This yellow flower bowl just screams "I WILL BE BEAUTIFUL ON YOUR EASTER TABLE!"
Again, I haven't quite decided how I will use it, but I'm sure it will make the perfect serving dish for something when we're setting the table on Easter Sunday. (It is also available at Sage & Sadie).
On a recent excursion to Orlando I swung through IKEA and found only one thing I couldn't live without (and also afford) —  these yellow pillar candles. Unfortunately, I didn't realize they were only yellow on the outside (the inner wax is white) but I still love them.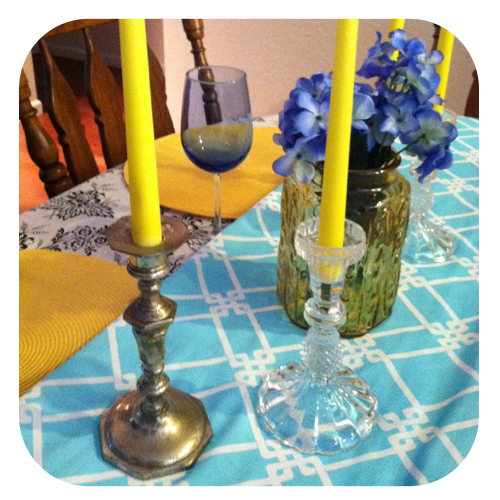 Two of them wasn't enough of a punch of yellow, but I didn't have four matching candle holders so I decided to mix-and-match these crystal and silver pieces from family hand-me-downs.
But my most favorite table setting idea for this Easter is this really simple bunny ear napkin fold.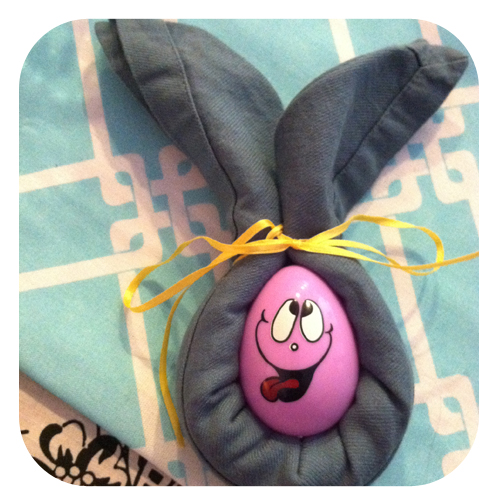 There are some really complicated bunny napkin folds out there (Martha be crazy y'all) — but really, who has time for elaborate napkin origami when you're also preparing an eggstravagant Easter feast?
My fold is really easy:
1. Fold your square napkin once, corner to corner
2. Fold your napkin a second time, corner to corner, creating a triangle 1/4 the size of your original napkin
3. Roll the napkin from the tip of the triangle down to the bottom edge
4. Fold your rolled tube in half and tie it
You can stick an egg in the middle or not — I used these great plastic eggs with faces I picked up at the local CVS.
It's cute, fun, colorful, and easy — which means it meets the four most important criteria for any of my craft/decor projects.
I hope you guys have a fantastic Easter celebration with your families and friends, or if Easter's not your thing just enjoy a relaxing Sunday. 🙂
Check back soon for updates on my forthcoming project, Killer Shine.