It's ten-thirty in the morning and I'm standing in the darkness of a cave somewhere in the middle of the Tennessee wilderness. A young tour guide with a buttery Southern accent is rattling off some history tidbits when I hear it. One of the most beautiful sounds to ever grace my ears.
Three voices, in glorious harmony, echo through this cave with words that seem to spill straight out of the Heavens above.
Watch over us
Watch over us
When my hands are tired
And my strength is gone
Mama your baby
Is shrouded in sorrow
You've had your time
But who has tomorrow?
I nearly fall to my knees. It's the weekend after Easter, so I'm a few days overdue for the celebration of religious cave-related experiences, but the spirituality and glory of this moment is so moving it takes my breath away. It is why I drove ten hours through the fiery pits of Atlanta traffic hell to get to this random spot deep in the Tennessee woods.
It is a band called The Lone Bellow.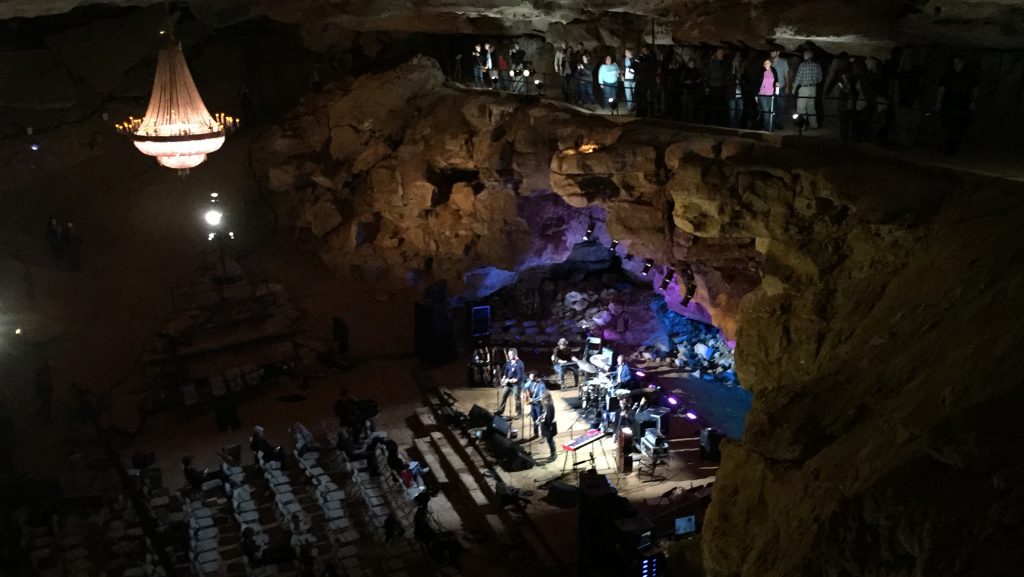 Now that I've established myself as a melodramatic blasphemous spelunker of some sort, let me take you back a few years to one of my favorite local music venues, the Ponte Vedra Concert Hall.
Formerly a church, the converted concert space holds about 450 very uncomfortable folks when the folding chairs are crammed shoulder-to-shoulder and you willingly agree to breathe in your neighbor's unique cocktail of cologne and BO for two long hours in exchange for an intimate musical experience with some truly phenomenal musicians (it's worth it, I promise).
One night in February 2012, my best friend Toni and I happily traded our comfort (hers especially — she was seven months preggo and not exactly thrilled to be encapsulated in other people's body heat with NO WHERE TO PUT HER ARMS for several hours) for a chance to see this lovely duo called The Civil Wars.
(I know, I could write a whole 'nother blog post in memoriam of the greatest duo ever known to music and how magical they were before they vanished from our ears forever, but I am still, six years later, TOO SAD to talk about it, so that post will have to wait…sorry…)
This crappy iPhone video is all I have from that one glorious Civil Wars concert…man they were SO good.
Jammed into my seat, beer in hand (#PreggoDDsAreTheBest), the lights dimmed and three musicians stepped onto the stage. A gorgeous woman with fiery red hair and a mandolin in hand (Kanene Pipkin), was joined by two striking dudes, one a broad-shouldered attractive lumberjack type (Brian Elmquist), the other a dark featured Southern renaissance man type (Zach Williams), both with guitars at the ready.
From the moment they struck their first harmonies on "Green Eyes and a Heart of Gold" I was gobsmacked. High energy, but with precision vocals and a few stringed instruments, they lit up the room for four or five songs that were over far too quickly. As they humbly bowed their way off stage, I caught the mumbling of a band name — Zach Williams and the Bellow.
Although the Civil Wars exceeded every expectation I had for their performance (again, I'd write about it, but I'm still very deep in mourning) that night, it was this trio of striking voices that stayed with me. I hunted them down on Facebook and discovered that they'd only been together a few months, were still settling on a name, and had no albums or recorded music available anywhere, just a handful of YouTube videos.
I watched those videos (particularly this one) on a regular rotation, like a junkie feeding my habit, until they finally settled on a name and released their self-titled, debut album, The Lone Bellow, in January 2013 — almost a full year after I first saw them.
I wore those first 11 songs out. The words, the cadences, the choruses, the notes, the harmonies, every listen was a new experience. Tree to Grow was particular standout for me, not just because the refrain is so beautiful (A tree I'll grow to let you know my love is older than my soul) but because there was something so visceral in the way the cadence and the bass line built to this huge, belted, almost cried-out crescendo (It gets harder and harder, but my love is older than my soul).
Maybe it's the realist in me, but my favorite love songs are the ones where love isn't this easy, sparkly thing that falls out of the sky, but instead this broken, fragile thing we struggle and fight to keep alive because it is truly the only thing that matters in this world.
Okay, so, anyway…back to the story.
While I played that album on repeat, almost daily, for two years, The Lone Bellow were traversing the country building up their fanbase in person and on social media. When they finally announced a return to Florida for their first headlining show, I couldn't believe how generously fate had smiled her gorgeous pearly whites in my direction. The date set for my first full-fledged Lone Bellow experience was November 10, 2014 — a.k.a. the eve of my 30th birthday.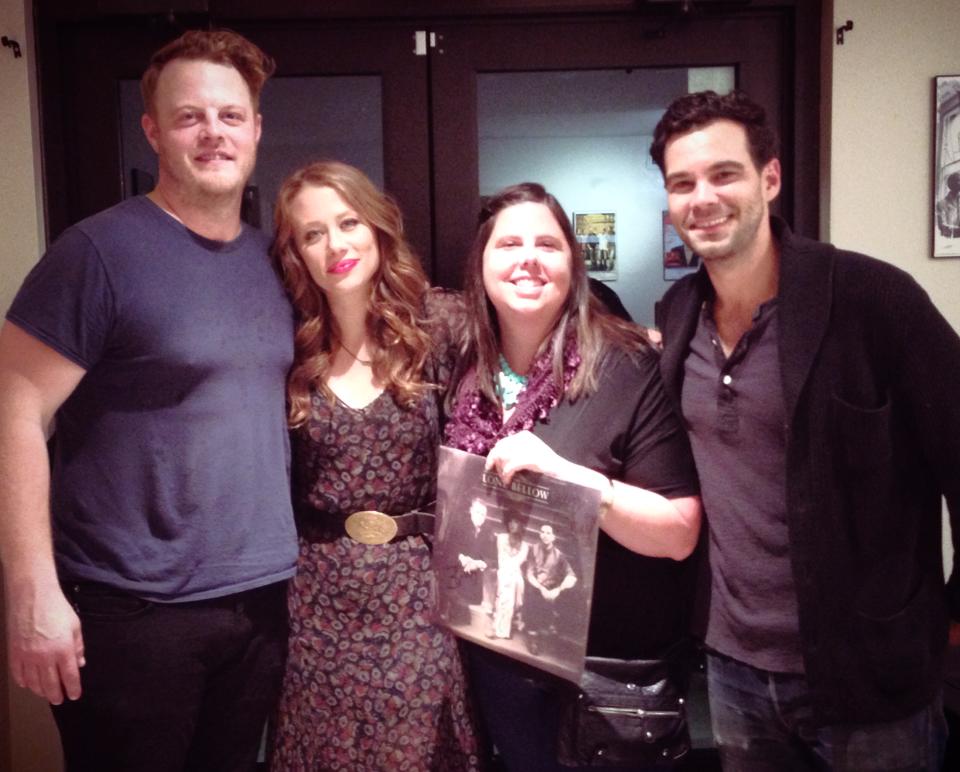 It was the one and only time I've ever purchased front row seats for a concert. Back at the same, intimately packed theater of the Ponte Vedra Concert Hall, I held back tears while the band played through their debut tracks, previewed a few off their new album (Then Came the Morning, which was released in January 2015) and mixed in eclectic covers of Angel from Montgomery (John Prine), Back at One (Brian McKnight), Waterfalls (TLC), and Slip Slidin' Away (Paul Simon).
After the show, I waited in line to meet them. They were incredibly kind and gracious with their time. As they signed their album cover (which was the first vinyl I'd ever purchased, by the way) I told them it was my birthday and Zach added a celebratory message with balloons to their signatures. We posed for a photo before I drove off into the night, certain that nothing could ever top that concert experience.
Which brings me back to the cave…
Once a year, PBS takes over the Cumberland Caverns in rural Tennessee (like, single-lane dirt-road-thirty-minutes-past-the-field-in-the-middle-of-the-countryside-where-they-have-Bonnaroo-every-year, THAT kind of rural) for a weekend of music unlike anything you've ever experienced. Over three days, they bring in about a dozen acts, ranging from regional bluegrass ensembles to nationally known musicians, and film them all performing inside this cave for "Bluegrass Underground."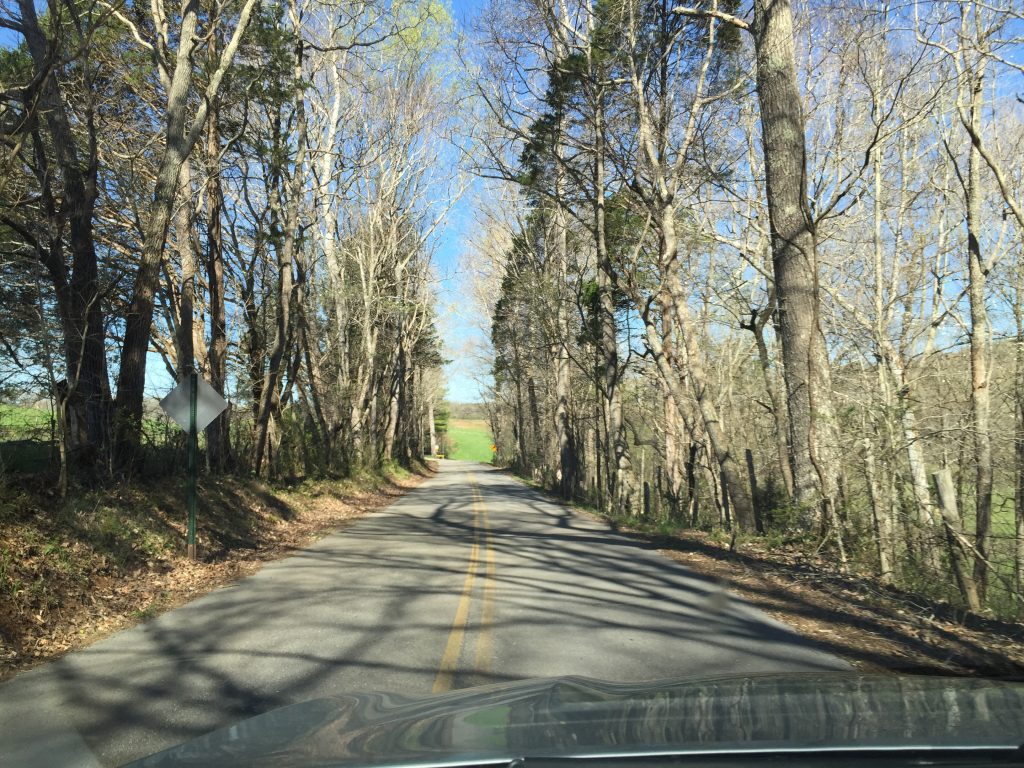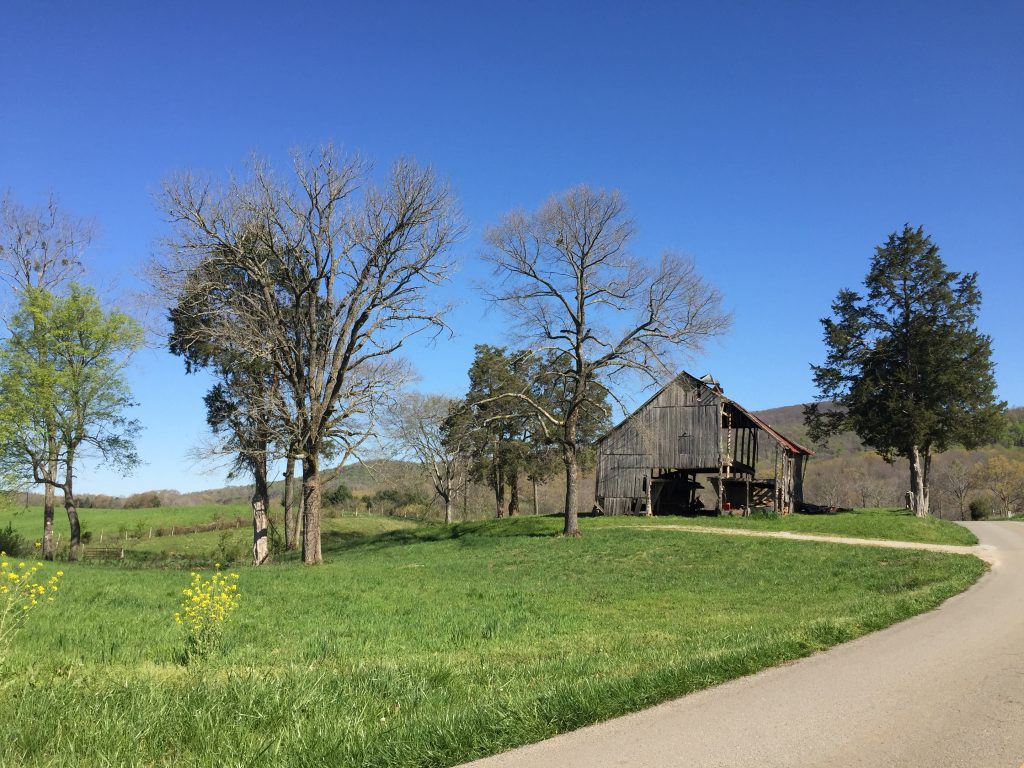 Understand that I am mildly claustrophobic, so caves are not my favorite spot to spend long periods of time. But the Volcano Room inside Cumberland Caverns is magnificent. A crystal chandelier that previously hung in the New York Metropolitan Opera House glitters against the granite ceiling of this natural chapel.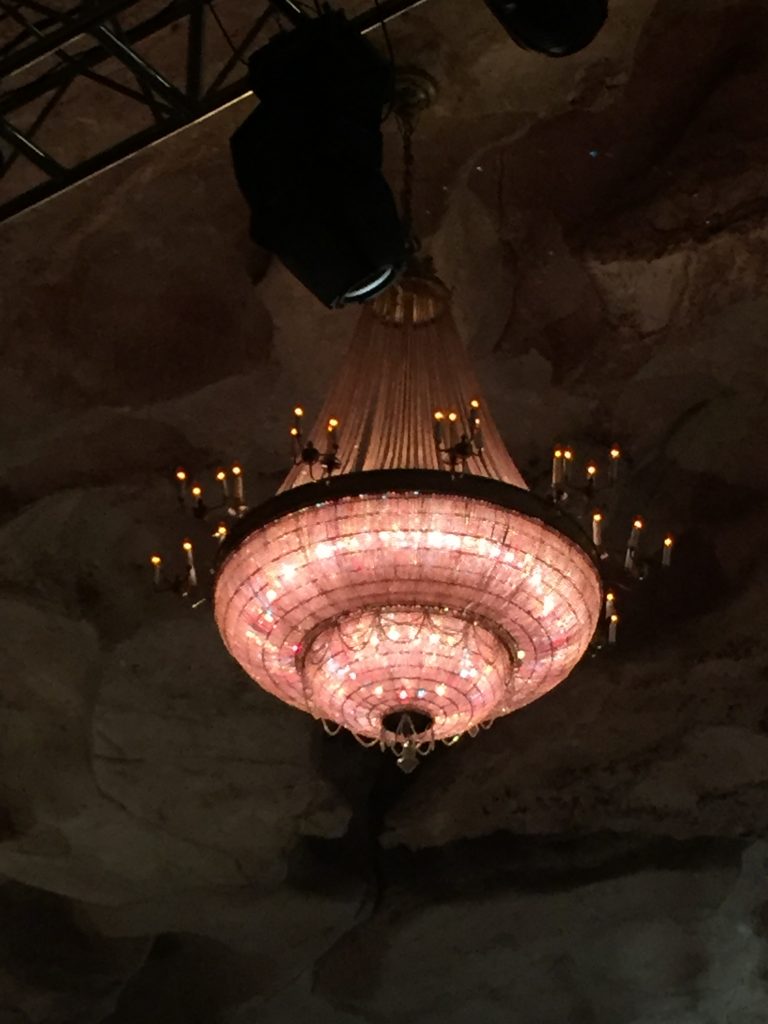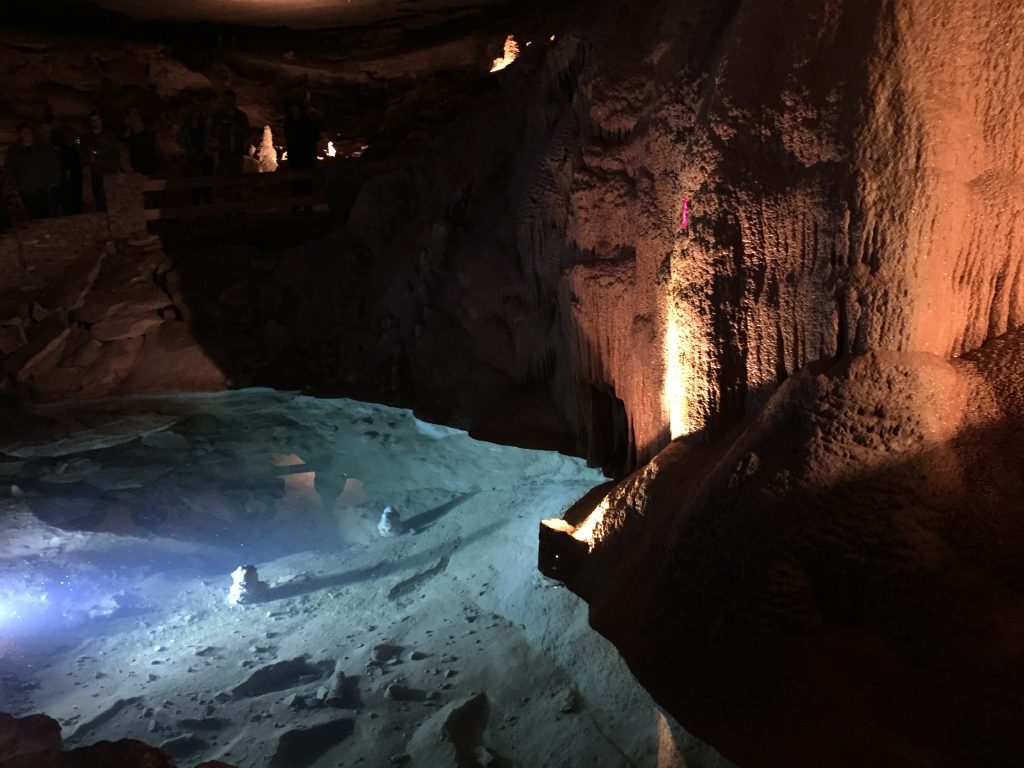 We took the guided tour before the show started and just so happened to pass through the crevice above the Volcano Room right as The Lone Bellow were doing their sound check. I practically had to be dragged back out of the cave to wait in the official general admission line. Eventually, we descended back to the underground oasis and took our seats.
The first band up that day was The Suffers, an eight-piece, energy-packed soul group from Houston led by the incredible Kam Franklin. After their 45 minute set, equipment was switched out and potty breaks were had before the second band of the day took the stage — The Lone Bellow.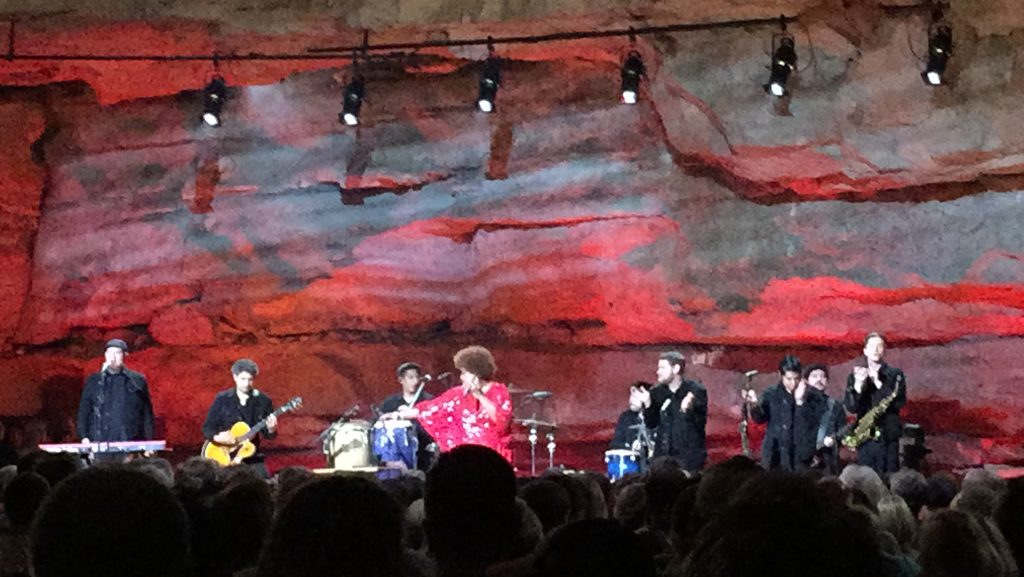 Now, we were sitting in the general admission steerage section in the back of the cave, but minutes before each set began, a producer would come back to our section and call out a number of empty seats in the front section (the one that would actually be seen on TV) and the first volunteers could move up and fill those spots. It is a testament to my lifelong friendship with Toni that she told me if I had the opportunity to abandon her and move up into a single spot, I had her blessing to do so. (I'm sure she also knew that I would've done it even without her blessing, but nonetheless it was a kind gesture.)
When the producer popped back to us and held up one finger, I nearly levitated, flying over the heads of every person in front of me to take my spot about 10 rows back from the naturally formed stage.
Two moments stand out to me from The Lone Bellow's set (which was far too short, by the way). One was Watch Over Us, which they sang acoustic, letting the cave amplify their harmonies and fill the chamber with auditory bliss. The second was their final song, Then Came the Morning, during which they taught each half of the audience to sing either Brian or Kanene's harmonies on the song. Listening to the whole room sing a four chord progression was like church, purely spiritual.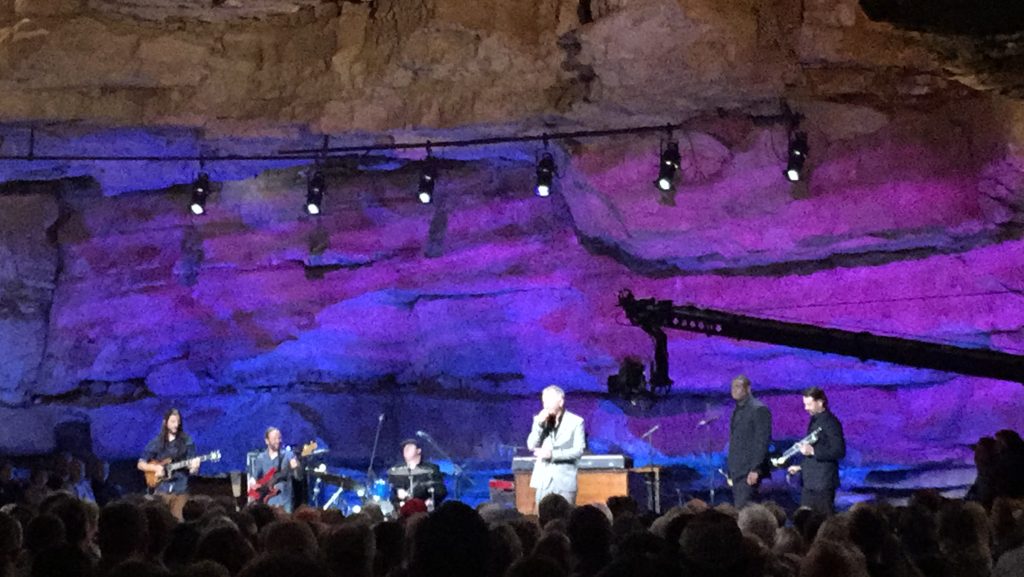 After their set, I returned to my seat for JJ Grey. A Jacksonville, Florida native, JJ plays around Northeast Florida all the time (including St. Augustine) but somehow I'd never caught him live until the cave. His gravelly, soul voice is extraordinary and The Sun is Shining Down in particular was transcendent.
Last up for the day was St. Paul and the Broken Bones.
If you have never seen Paul Janeway perform live…holy hell. There is absolutely nothing like it. Nothing. Even if you've listened to their albums extensively, there is no way to prepare yourself for the voice and energy that comes out of that bespectacled Alabamian. He nearly brought down the entire cave during Broken Bones and Pocket Change when he ignored the producer's requests and walked off the stage, into the audience, at one point laying down on the ground and writhing in agony while belting "Melody, melody, melody, why have you forsaken me?"
I've been to a lot of concerts in my life and I'm sure I have many more ahead of me, but I don't think anything could ever possibly top the experience of Bluegrass Underground. If you ever have the chance to go, don't hesitate. Do it.
And — bonus tip! — get the barbecue sandwich at the concession stand, it was delectable (although, to be fair, we were stuck down there for like six hours with minimal food options, so that might've skewed my tastebuds, but for now I stand by it!).