Every time I go to a music festival, I leave the event thinking:
DEAR GOD WHY DID I DO THIS PLEASE NEVER LET ME GO TO ONE OF THESE AGAIN!
But then I have a couple margaritas with my childhood best friends and someone mentions Justin Timberlake is playing a two-day festival in Tennessee called Pilgrimage and next thing you know I'm $200 poorer and on my way to sweat out every drop of liquid in my body on a farm somewhere outside of Nashville.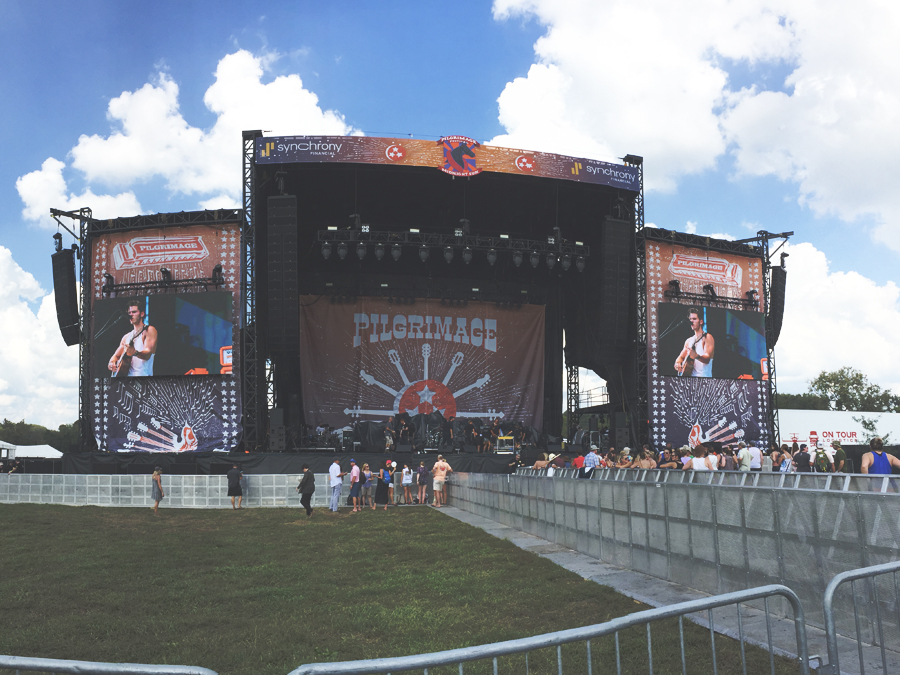 Look, in concept, the festival thing is great. Let's get like 20 amazing bands in one place and create this awesome, creative environment with art vendors and good food and just have 48 hours of fun.
Sure.
But then there's a heat wave across the Southeast that makes late September feel more like late July and the lines at the ONLY TWO water stations are a mile long and there is minimal shade available on this massive acreage of farmland and you're asses-to-elbows with 30,000 other sweaty people dancing to Walk the Moon (who make you feel SO OLD because what even are they and why are they singing "I can lift a car up over my head" again and again right now?) when you wanted to be watching the Avett Brothers, but they're on another stage and you have to save your spot at this stage for Justin because he is the reason you drove 12 hours from Florida to stand in this godforsaken field in the first place.
And just when you think, THIS IS SO MISERABLE I WANT TO DIE, Justin Timberlake appears and everything in the world is good and wonderful and perfect again.
I don't know how it's possible that until Pilgrimage I had never seen Justin perform solo before, but that dude is truly the penultimate entertainer. Not only did he kill it performing his own songs, but then he brought out Chris motherflipping Stapleton. They played three songs together including a duet of Chris' "Sometimes I Cry" that was maybe one of the best live performances I've ever heard.
Also, it cannot be overstated enough that Justin Timberlake is even more beautiful in person than your eyeballs could ever comprehend.
I left the venue that night thinking nothing could possibly be better than seeing Justin Timberlake and Chris Stapleton performing together live.
I. Was. Wrong.
If you know me at all, you know I'm borderline obsessed with Jason Isbell. I love musicians who tell stories with their songs, and he is the absolute king of that realm. His lovely wife, Amanda Shires, is also a tremendously talented singer/songwriter who can play the hell out of a fiddle. As it happened, Amanda was scheduled to play Pilgrimage on the second day at one of the smaller stages in the back by the Harpeth River. Jason was in the midst of his own tour, but the Friday before Pilgrimage, he cancelled a series of dates due to a family emergency with one of his band members. I saw this news on Twitter and wondered if that meant he might make an appearance at Pilgrimage.
A handful of people, myself included, were in front of the stage when Amanda and her band came out to do a soundcheck before her set. For a second, I stopped breathing. He was there. More people filled in behind me, but I stayed rooted in my spot, not ten feet from one of my biggest music idols. Amanda was really wonderful, and it was so sweet to see Jason playing back-up guitar and singing harmonies while she stood in the well deserved spotlight.
Though I've seen Jason twice before (both times with Amanda playing in his band, the 400 Unit) I didn't fully realize until I was standing there in front of him that he's actually a really talented guitarist. As they wrapped up their set, he took his pick — marked with his name and logo — and tossed it into the audience.
Now, I don't exactly remember what happened next.
I have a vague recollection of leaping up in the air like Dikembe Mutombo, possibly clawing at the girl behind me while I knocked the pick out of the sky onto the ground, and then dropping down into a Gollum-esque crouch, covering the pick in the dirt with my hand and glancing at the faces above me just daring them to make a move.
I know it was not my finest moment because when I finally secured the pick and turned to my friends who were sitting on a grassy berm beside the stage, their faces were both stricken in horror.
Nonetheless, I got the pick, y'all.

Later that day we also saw Fitz and the Tantrums and Ryan Adams, got some Hendricks Gin (refreshing) as well as Jim-N-Nick's BBQ (delicious).
I still think I've passed the age where festivals are fun and I have absolutely no plans to ever return to one again, but, if I did, it might be Pilgrimage.