5 Minutes in New Orleans, Louisiana
My day job takes me to a lot of new places, and even though I'm often occupied with work responsibilities, I try to steal a few moments to find some hidden treasures. From dive bars and food joints to interesting museums and other attractions, I've captured some of my favorite experiences in case you ever have five minutes to spend in one of these great cities! READ MORE FIVE MINUTES IN…
I woke up on my second day in New Orleans to the soft tapping of raindrops against my hotel room window. Unfortunately, due to a series of poor decisions that took place the previous night (slash early morning) on Frenchman and Bourbon Streets, each gentle drop sounded like a small explosion in my head.
My first trip to the Crescent City was a short one. I flew in on Thursday morning and out Friday evening, for what was (technically speaking) a work trip to attend a black tie awards gala (yes, my job is terrible, I know). But, alongside a friend who joined me for the event, I decided to make the most of my quick visit to the bayou.
On our first day, we did all the required tourist-y fun things: indulged in eggs Benedict and blood orange margaritas at the Ruby Slipper; visited the Audubon Aquarium; tooled around the French Quarter; and partook in the aforementioned collection of unfortunate (but quite fun) choices at a series of bars I could not name or describe to you in any sort of detail now.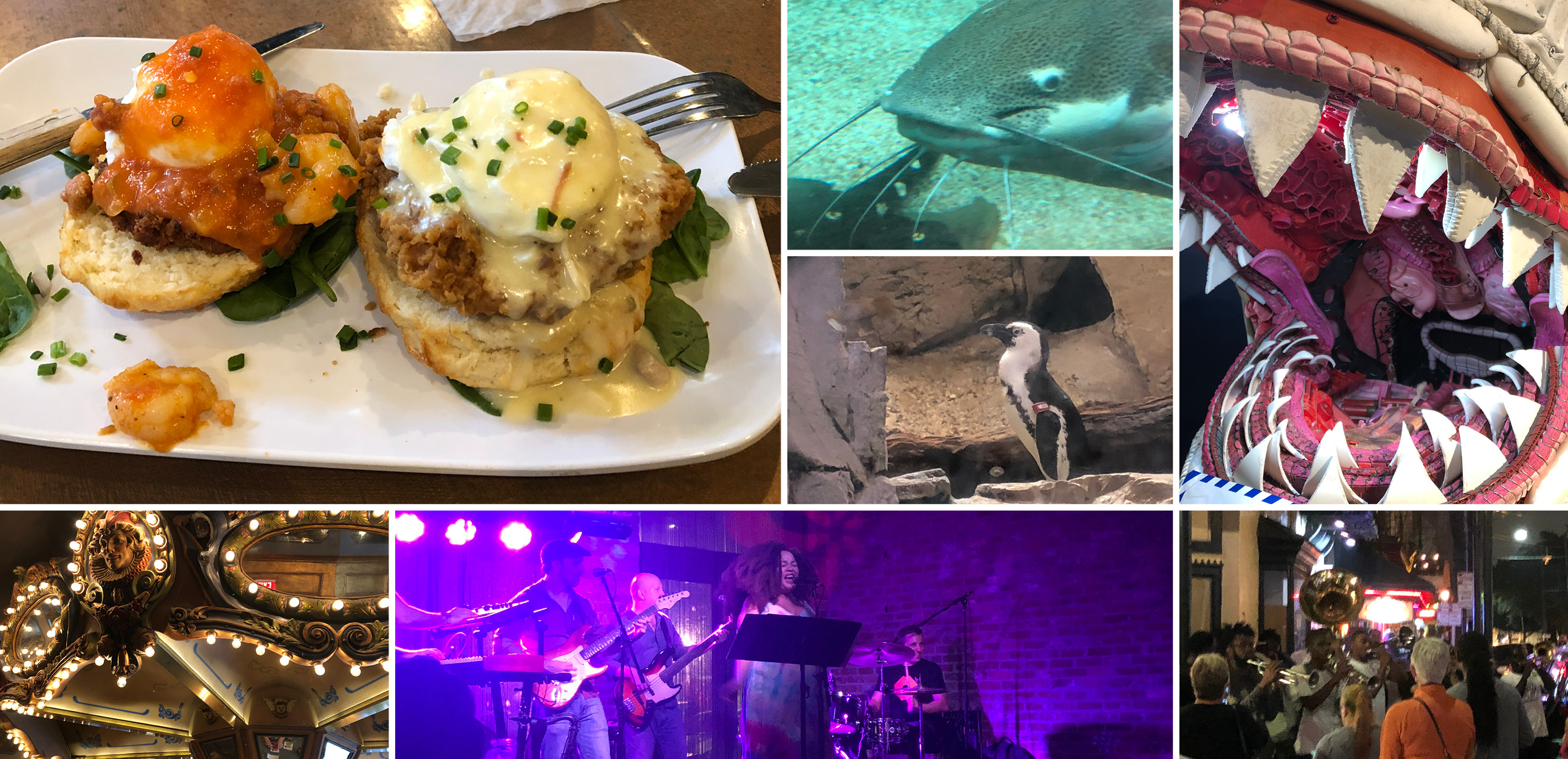 After breakfast and some recovery time the next morning, we trekked over to the one destination I knew I had to visit the moment I found out I was going to New Orleans: the World War II Museum. Our trip coincided with Veterans Day weekend, so attendance on the day of our visit was high and the mood was especially somber.
The World War II Museum's campus is actually made up of a series of buildings, each of which highlights different portions of the war. There are separate exhibitions for the European and Pacific Campaigns, as well as a large hangar space with a collection of WWII airplanes, and a STEM-focused exhibit that houses some of the museum's macro artifacts.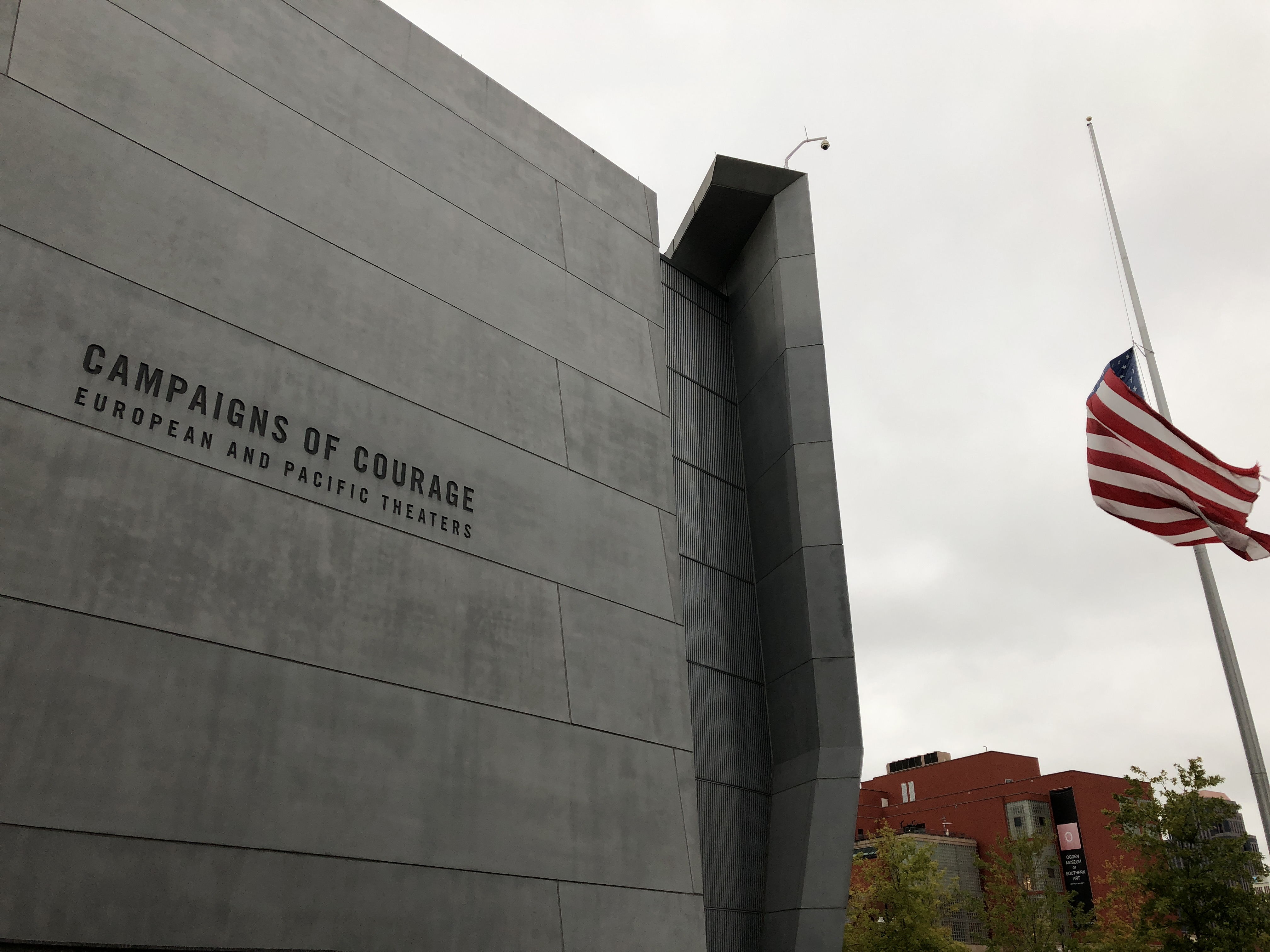 We easily spent the entire day exploring every bit of the campus. Each exhibit provides an immersive experience that is at times hard to bear, but served its purpose to bring to life this critical time in world history. From details on key battles in each campaign to a showcase of the American innovation and industry that supported war efforts at home, I thought the museum did a fantastic job of capturing all the different aspects of this war.
The museum offers a kiosk at the entrance where you can select a real person who fought in the war to follow throughout each exhibit, learning bits and pieces about their specific experiences as you go. It's a great way to connect visitors with the reality of these events, but for me I didn't need that extra connection. My grandfather was a WWII veteran who served in France. Though he didn't talk about his experience often, I knew enough that I could almost see his face amongst some of the soldiers pictured throughout the museum.
A few things were especially memorable to me, but none more so than the D-Day exhibit. This section of the museum was actually where it got its start — with a series of oral histories recorded from veterans who lived through that tragedy on the shores of Normandy. Throughout the museum, little corners offer quiet places where you can sit and listen to these stories. For all the well designed, high-tech exhibits throughout this museum, those short stories spoken by the men experienced it were by far the most impactful. I'm grateful that historians at the museum have captured so many of these stories to preserve for future generations to understand the sacrifices that were made.
Outside of that, the Boeing pavillion was also a memorable exhibit with its impressive display of WWII airplanes. I have a penchant for air museums (like Wings Over the Rockies in Denver and the National Naval Aviation Museum in Pensacola, two of my favorites), but what was different about this one is that you could actually climb up to a catwalk above the hanging planes and see them from above, as if they were in flight. It's not only a different view, but provides insights to different details that you might not otherwise get to see.
A caveat though, if you choose to climb up to the catwalks, be warned that it's not a place you want to be if you're a little afraid of heights. I was happily snapping photos and reading over the exhibit displays when I glanced over and noticed my friend was green-faced and wide-eyed. We made a hasty retreat to the only partially enclosed space on the top level — a small alcove by the elevator — until his color returned and we were able to descend to more comfortable heights.
I would highly recommend this museum to anyone visiting New Orleans, but definitely plan to spend the bulk of a day there. What's nice is that once you've paid admission and gotten your badge for the day, you can come and go from the campus. That gave us an opportunity to break up our day with a quick walk over to Cochon for lunch (Boudin balls, gator tail, mac-n-cheese and Mexican cokes were the answer to our hungover prayers!).
In all it was a great, if brief, trip to the Crescent City and an experience with the World War II Museum that I will never forget.

---
---