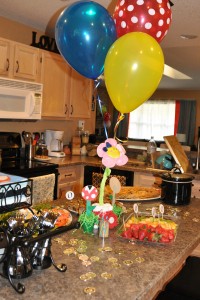 Yesterday, I posted an overview of a Super Mario themed baby shower some friends and I recently through for a great couple expecting their first baby. I couldn't cover all the details in one post, so I figured I would highlight some key parts of the party in case anyone else is taking on a Super Mario themed event.
Our menu for the Super Mario shower started small and (as these things always do) ballooned into enough food to sustain a post-apocalyptic colony for half a decade or so.
The final spread included:
Spaghetti with meat sauce (prepared the night before and baked in a big pan)
Salad with optional dressings
Fruit & veggie trays
Cookie dough dip with pretzels and graham crackers
Dark mint chocolate mustache pops (get the mustache mold here)
Vanilla star pops
Mushroom cupcakes (Funfetti cake with homemade butter cream icing)
We also made two types of punch to serve that were both well received. First was our "Peach Punch" which was made from equal parts Hawaiian Punch lemon berry squeeze, lemonade and ginger ale. For the adults, we made "Marioritas" from my mom's favorite margarita recipe. I'm not a big margarita person, but I definitely had one (or ten) glasses of this stuff. Even the guys liked it!
"Mario"ritas
1 can (12 oz.) of frozen limeade
12 oz. of Corona Beer
12 oz. of Sprite
12 oz. of Tequila
We scaled up the recipe and made a triple batch, which is easy to do since all four ingredients are added in equal parts. If you're looking for a more calorie friendly version, we've made it before with sprite zero and Corona Light. It's a definite crowd pleaser for any event!
We definitely had WAY too much food for 30 people, but I don't think anyone complained about eating the leftovers the next few days (I certainly enjoyed a cupcake..or two…for breakfast!).