Few things in life start out more fun than planning a baby shower.
Especially when the entire event is forced on the expectant parents-to-be because they're painfully shy and loathe being the center of attention (to the extent that they eloped and got married in front of five friends on a cruise ship in the middle of the ocean).
But while we accepted the tiny wedding and obliged the requests to skip a traditional wedding shower and bachelor/bachelorette parties, we could not allow them to skip over a baby shower in honor of their firstborn.
First lesson of parenthood: You don't turn down free stuff. Ever.
So with the wishes of the happy couple decidedly pushed aside, we jumped headfirst into planning an uber-trendy soiree featuring an oh-so-hip-and-Pinteresty yellow and gray bumble bee theme. We were up to our eyeballs in bumble bee stickers, yellow napkins, black plates and adorable invitations when it suddenly occurred to us that we had made a terrible mistake.
Our guests of honor are not uber-trendy soiree kind of people.
This is the couple who decided to make their daughter's nursery theme chemistry & astronomy. The couple who met online, who both work in computer programming, who have shelves filled with books by Carl Sagan, H.G. Wells and Douglas Adams. The couple who spend their spare time playing video games and watching Discovery channel.
In short, this baby shower was being thrown for a couple of adorkable geeks.
So six weeks shy of our shower date, we changed the entire theme.
Enter: The Super Mario Super Shower.
As soon as we changed the theme, ideas started flowing like the waterfalls on Yoshi's Island. Mustaches, mushrooms, rainbows and Italian food became the centerpieces of our event for 30 of the couple's family and friends (because women-only baby showers are for Mad Men, it's 2012, everyone should be involved in the celebration!)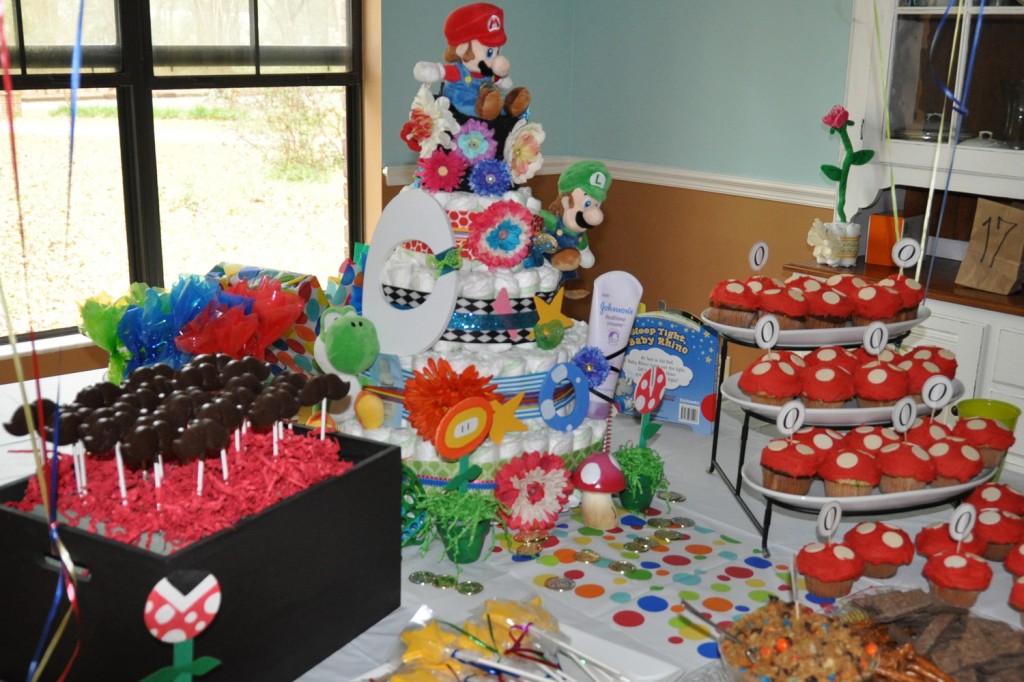 Our main table featured the diaper cake (created with fantastic attention to detail by my friend Tori who so included not only diapers, but fun hairbands and hair clips for the baby as well), mushroom cupcakes, chocolate mustache pops and a few other desserts.
(More pictures under the cut!)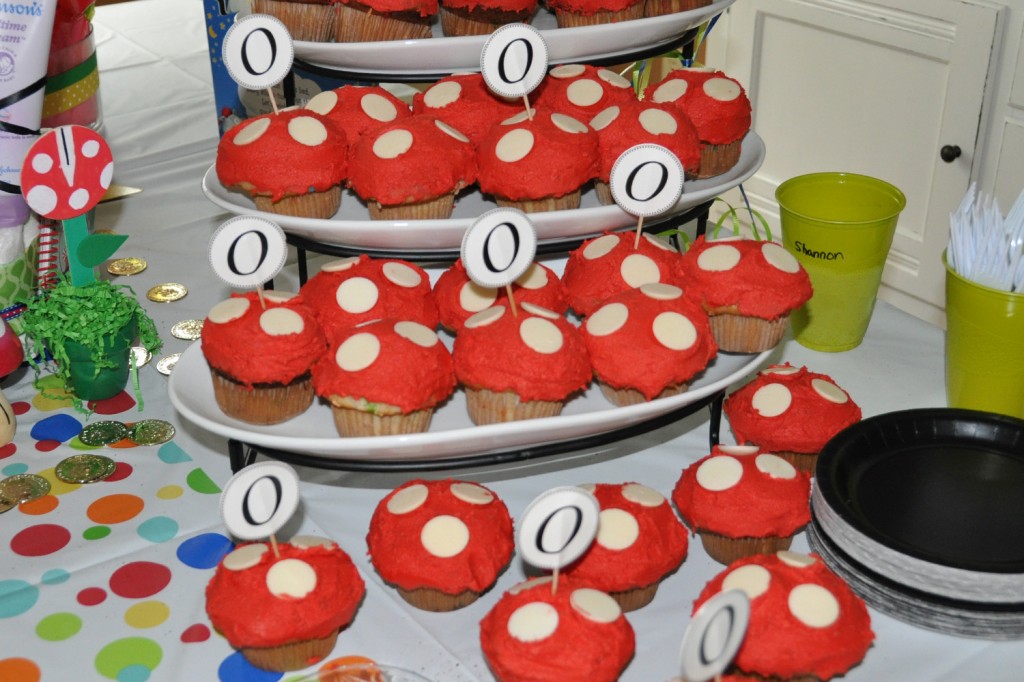 The cupcakes were Funfetti (from the box… a favorite of the Mom-to-be) with homemade butter cream icing dyed red (using two containers of Wilton's red). We added the spots with vanilla candy melts (the kind they use to make formed candy pops and such) pushed into the icing with the pointy side down.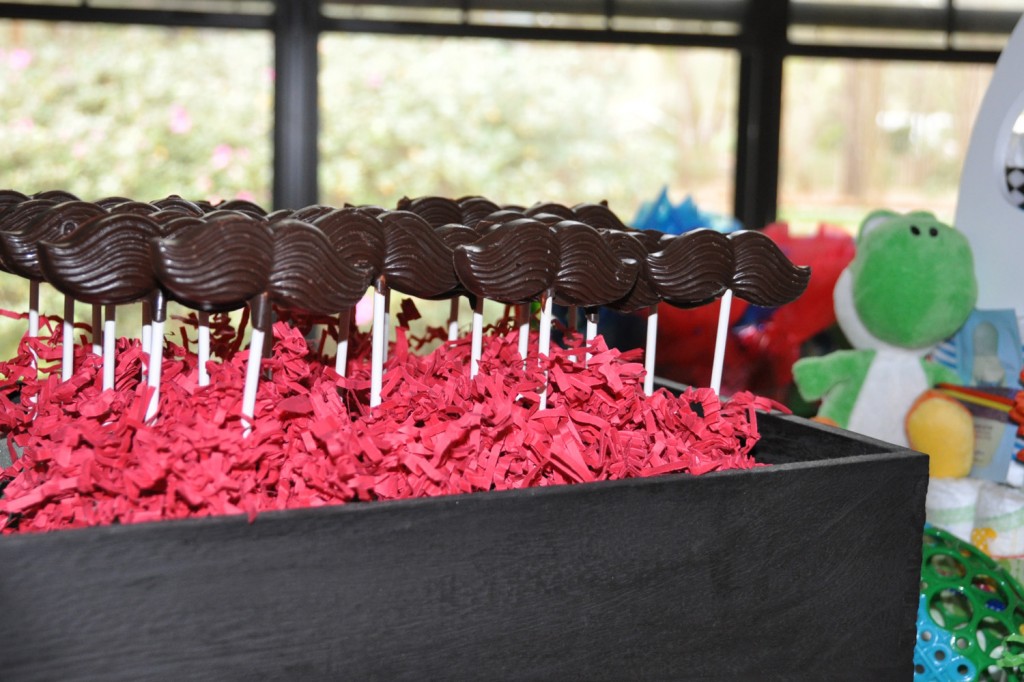 Tori also made these delicious chocolate mustache pops (with some of the aforementioned candy melts–she used the dark chocolate mint variety). These were a HUGE hit with the kids and grown-ups alike.
We had three games and three main prizes — a spaghetti basket (we used a pasta strainer for the basket), a gardening gift basket (including a small chive plant, gloves and watering pot) and a Dominoes gift certificate (taped inside a small box we got for free from Dominoes).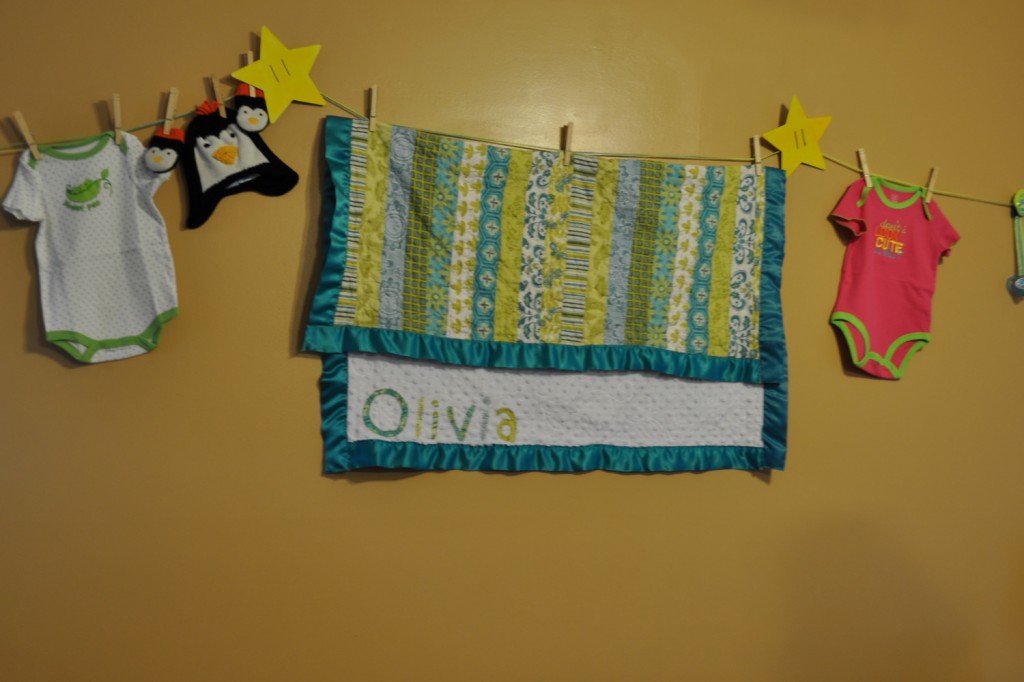 Genius idea from one of my friends–forget the useless paper streamers! Put up a clothesline (with push pins or 3M hooks) and add colorful onesies, bibs and in this case a quilt made just for the real guest of honor. We also added the stars to go with our Mario theme.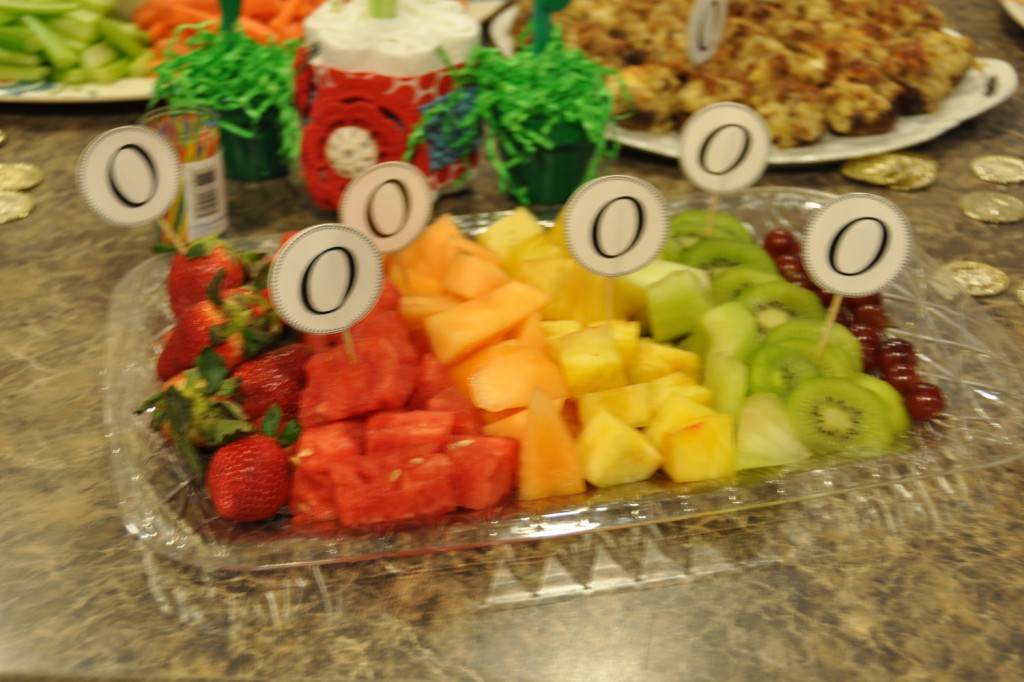 This is SUPER easy. A container of fruit from the grocery store displayed in rainbow order, looks great, tastes great, takes five minutes and costs under $5. (The "O" toothpicks were picked up on sale at Hobby Lobby for Baby Olivia).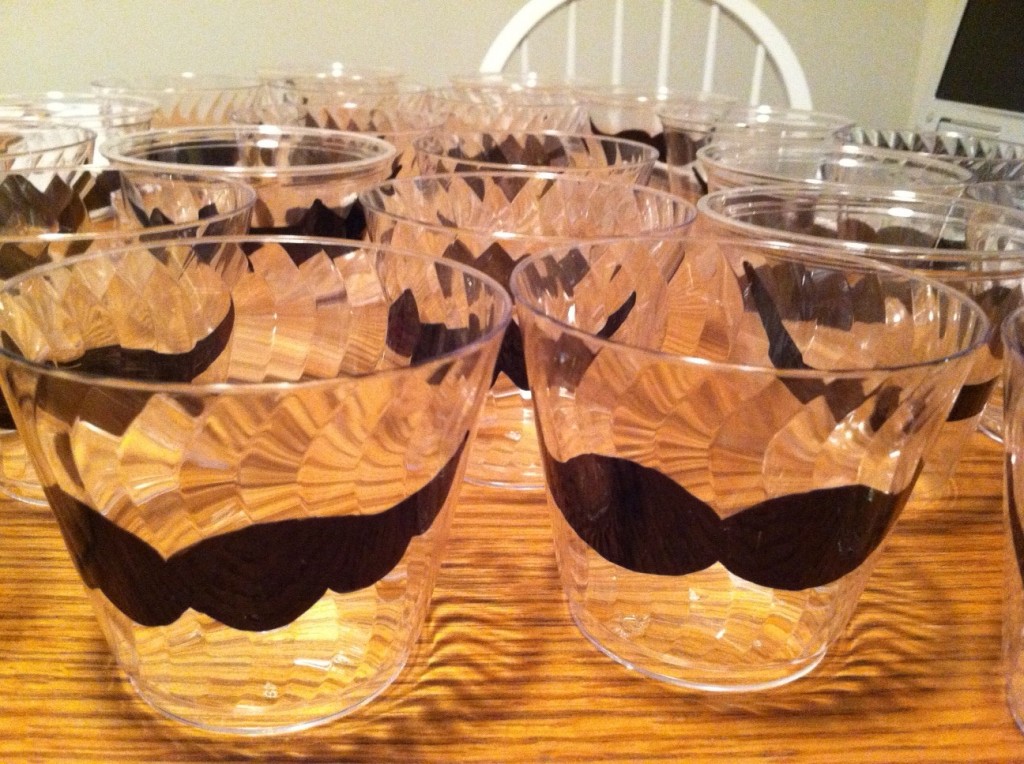 My friend Jaime and I hand painted (hand painted!) these plastic punch glasses with all four types of Super Mario mustaches (Mario, Luigi, Waluigi and Wario). We filled them with a sort of gelato we made combining Jell-O and vanilla ice cream (delicious and a big hit with the kids!)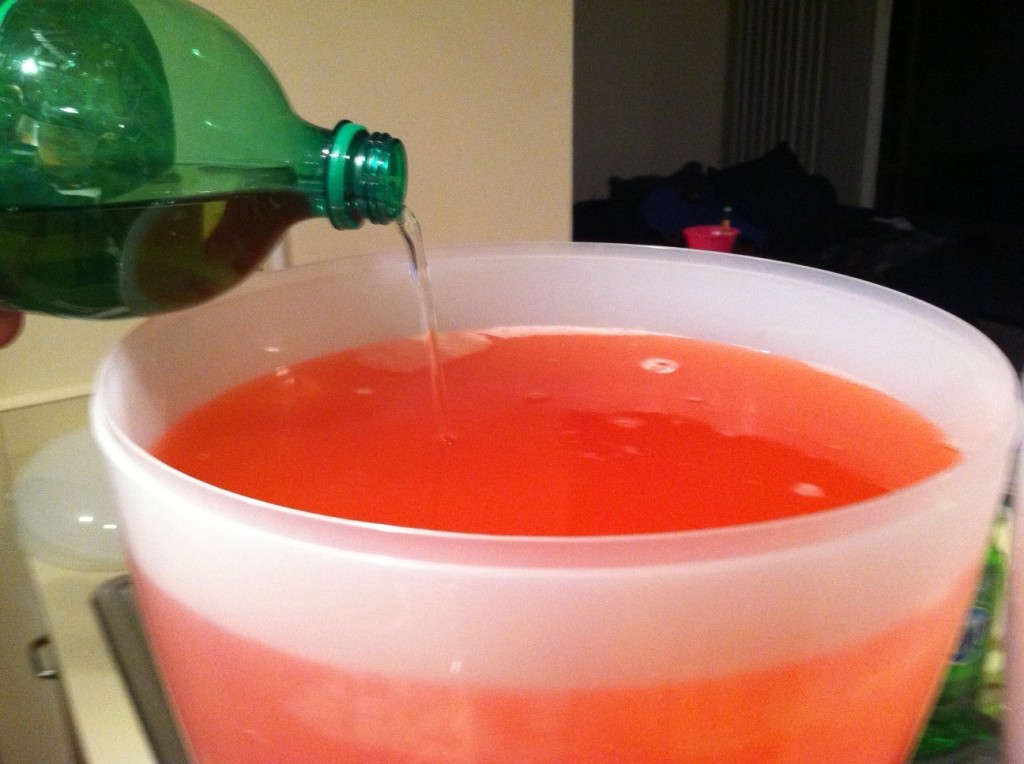 We made two punches — Peach Punch (non-alcoholic for the kids and the Mom-to-be) and "Mario"ritas for the rest of us who were there to party (Note: The men are more likely to get interested in a couples/family shower if there's alcohol involved, just a suggestion).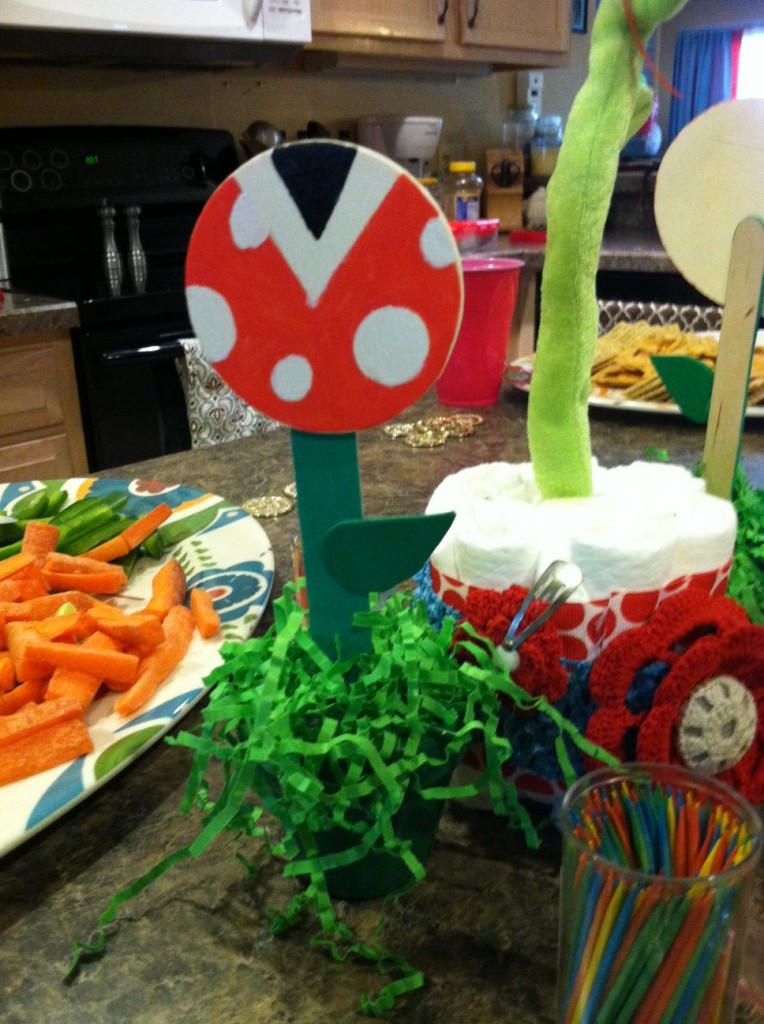 I made these sewer pipes and flowers with little flower pots, popsicle sticks and wood cut outs from Michael's.
Everyone raved about the party, including the guests of honor, so I think we can chalk this one up to a success! Over the next couple of days I'll share more details in case anyone else would like to take on the Super Mario theme for an upcoming baby shower or kids' party.