I think I had a dream last night about jumping over sewer pipes and banging my head against floating brick blocks looking for coins. It's a good thing I love me some Super Mario or I'd be reaching a breaking point with the world's most famous Italian plummer.
Not only did I throw a Super Mario themed baby shower with some friends last weekend, I also helped with some of the preparations for my pseudo-nephew's Super 6th Birthday Party in January. But even if we are a little worn out on Mario and Co., it was actually very fortunate that we wound up using the same theme for two parties so close together so we were able to use some of the decorations and such twice (saving some money in the process).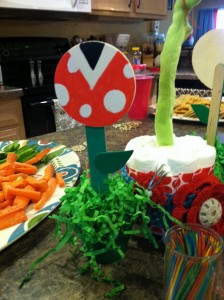 My favorite part of the shower decorations were these sewer pipe flowers that I made at the last minute for table decorations. They were fairly easy to put together and for fans of the Super Mario games, they were a dead ringer for the real deal.
I picked up all the necessary pieces from Michael's including:
Small terracotta flower pots
Green spray paint
Wooden popsicle sticks
Oval and circle shaped wood cutouts
Multi-colored paint markers
Small styrofoam balls
Shredded green filler
A sheet of green felt
Glue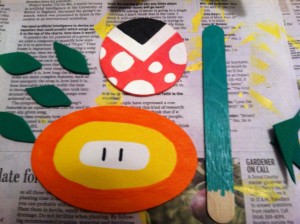 Step 1: Paint the pieces.
I spray painted each of the flower pots inside and out with the green paint. It took a few coats to get a strong, sewer pipe green. I should have spray painted the popsicle sticks as well, but due to time and weather constraints I wound up hand painting them with the paint markers. I also used the markers to freehand the flowers. You don't have to be an artist to handle these, the design of both types of flowers are pretty basic.
(Hint: For the Venus fly traps, paint the circles and lips in white first, then fill in with the red to avoid messing up your paint markers and/or doing 27 coats of the white over red)
I chose paint markers instead of regular paints because they're less messy and easier to control. I've used them for a few projects now and I swear I'm NEVER going back to using paints for anything.
Step 2: Glue the parts together.
While the paint was drying I cut out leaves from the sheet of green felt, then attached the leaves and flower heads to the painted popsicle sticks with a few drops of Aleene's tacky glue (my personal favorite crafting adhesive). I let everything dry overnight.
Step 3: Installation and finishing touches.
The next morning I took the popsicle sticks and drove them about a half inch into a styrofoam ball that wedged perfectly in the bottom of my flower pot. This kept the sticks firmly upright in the center of the pot. To cover the white ball, I added the green paper filler.
(Hint: About halfway through making these I realized it was easier to take an unused popsicle stick and pre-punch the hole in the styrofoam so I didn't have to apply pressure on my glued together creation.)
I made eight of these for party, plus some simple stars (Michael's has precut stars on pretty thick paper/cardboard that are easy to paint, highly recommended) for our clothesline. Since there's so little available in the way of Mario party decorations, these were pretty handy and very easy to put together.
They also make great keepsakes for party guests!